Scholarships, Awards and Bursaries
St Edward's offers a range of Scholarships and Awards, to support the School's ethos of encouraging participation and excellence across all areas of school life.
Scholarships and Awards
Click on each entry to read more:
13+ covering Art, Dance, Drama and Design Technology
16+ covering Art, Dance and Drama
Dates for Scholarship and Award applications, examinations and trials can be found here.
Scholarships come with a fee award worth £2,000 per annum, while Exhibitions (the second level of Scholarship) and Sports and Arts Awards are worth £1,000 per annum.
Scholarship applications and eligibility
-All candidates applying for a Scholarship or Award must be registered and sit an online test to demonstrate that they can benefit from the academic opportunities at St. Edward's.
-Candidates for 13+ entry must be under the age of 14 on 1st September in the year of entry. 
-All applications for scholarships must be completed by the candidate's parents and then passed to the Head of the pupil's current school for completion of the confidential reference.
-Candidates may apply for both an Academic and a Music Scholarship, plus one Award or a single Scholarship and up to two Awards.
If you have any questions about the scholarship application process please contact the Admissions Team.
Bursaries
The School is committed to helping as many young people as possible from all backgrounds to experience a St Edward's education. Pupils applying to enter St Edward's at 13+ (Shell, Year 9) or 16+ (Sixth Form, Year 12), whether applying for a Scholarship or not, are eligible to apply for means-tested fee support – a Bursary – which can be up to a total of 100% fee reduction. Applications for Bursaries should be made by 1st September in the year in which a pupil is applying to the School. Applications after 1st September will not normally be considered.
Find out more about how to apply for a Bursary by clicking on the image below.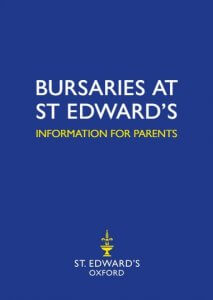 If you wish to make an application for a Scholarship, Award or Bursary, please contact the Admissions Team.