The Academic Culture at St Edward's
The academic ethos at St Edward's is fuelled by a number of complementary principles and beliefs. We urge our pupils to look to long term life goals rather than just exam results; we encourage pupils to be reflective and to find their own solutions to challenges; and we value and promote a range of different learning techniques, actively helping our pupils to understand which work best for them.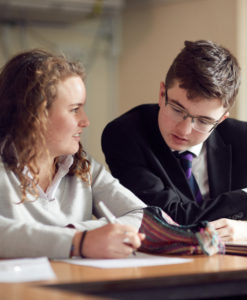 This sophisticated, highly-effective academic approach has been carefully developed, drawing on the very latest research into the way in which pupils learn. One of its most important elements is the pupil's own attitude to his or her studies. A pupil with drive and determination to do well, whatever their academic ability, will find encouragement and guidance at every turn. 
When pupils arrive at Teddies as Shells (Year 9), many of them are accustomed to being presented with information. We have a carefully-constructed system in place to guide them towards a more active approach to learning. Rather than sitting back and listening, we need our pupils to be on the front foot – engaged, asking questions, discussing ideas, looking things up and thinking for themselves.
An important part of this is exploring the concepts of challenge, coping with the emotions of failure and how they should not be seen as entirely negative, and can be managed and conquered. This self-awareness is vital to our culture. Pupils will eventually be expected to push their own learning forward so they will need to understand what works for them. In the Sixth Form, these elements become particularly pertinent, even in their selection of their courses, where pupils are able to choose between A Levels with the Extended Project Qualification and the IB Diploma.
Community is everything at Teddies and this is certainly true in the academic field. The individual conversations and relationships pupils have with their Tutors are key to our approach, as is the collaborative nature of classroom practice. We expect our pupils to work together, to share ideas, to produce group work, and to challenge and support each other. As a result, classrooms at Teddies are lively places.
In creating outstanding new spaces to suit this modern way of working, the academic facilities in the Quad Development will enable us to embed this culture even more firmly into school life. You can find out more about the Quad Development here.
The structure of the lessons with that level of interaction has made a huge difference. I enjoy the lessons with a discursive emphasis.
Millie, Lower Sixth
You can't get away from text books completely, and there will still inevitably be some of that in prep, but the ethos of the classrooms seems different here.
Patrick, Shells
There is no sitting and hiding at the back of the class, we're all involved all of the time. It makes lessons interesting, invigorating even.
Octavia, Upper Sixth