The North Wall
The pioneering North Wall Arts Centre is owned and managed by the School but runs a nationally-significant public theatre, gallery and artist development programme.
T
he award-winning North Wall Arts Centre at St Edward's opened 10 years ago with the support of Alan Bennett, George Fenton, Judi Dench and Richard Attenborough.
To see the full North Wall programme, click here.
To take a brief look at the dazzling programme of dance, drama, music and art at the public arts centre sponsored by St Edward's School, view the film below:
The ground breaking centre, built on top of the School's former indoor pool, operates on a number of levels. A vibrant, purpose-built home for pupil drama, art and dance activities, it has, since its inception, extended its vision and reach well beyond the School to develop an innovative arts venue for Oxford and beyond. With a deliberate emphasis on offering alternatives to the mainstream, the eclectic public programme attracts over 25,000 visitors a year to more than 100 performances and exhibitions. Alongside its programming, The North Wall embraces the School's mission to educate and inspire – by producing new plays; by programming work by early-career arts professionals; and by hosting free, residential arts placements for young people from all over the country. For pupils of St Edward's, daily access to a working theatre and art gallery, and all the professional writers, directors, performers, technicians and artists who use the space, is an unparalleled opportunity unique in education.
As a result of this pioneering facility, Teddies pupils have an excellent track record on stage and screen, and in the wider creative industries. Recent alumni include actors Emilia Clarke, Sebastian de Souza and Pippa Bennett-Warner. To read more about the success of Teddies pupils in creative industries click here.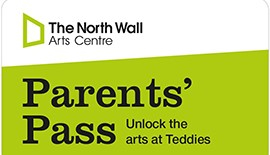 Current and former parents of St Edward's qualify for The North Wall Parents' Pass.
The Pass comes with a number of great benefits: discounted tickets, a discount at the bar, free parking on the Quad (as long as there's no school event taking place), and invitations to private views and special events. The Parents' Pass is free for those qualifying: contact The North Wall to request yours.
The North Wall is a crucial part of theatre's wider ecology, providing a platform for cutting edge theatre that inspires both audiences and emerging artists. Without it, Oxford wouldn't just be the poorer, but so would the whole of British theatre.
Lyn Gardner, Theatre Critic for The Guardian