Oakthorpe House
Welcome to Oakthorpe!
I
n Oakthorpe we value friendship, individuality and creativity, and we motivate one another to succeed in all areas of school life. Oakthorpe is a warm and caring house and is considered a second home by most, if not all, of the girls in the boarding House.
You can watch a film made by Rose Fawcett, a current Upper Sixth in Oakthorpe, to get a sense of life in House from the pupils' own perspective by clicking the image, and read more about the House from the pupils below.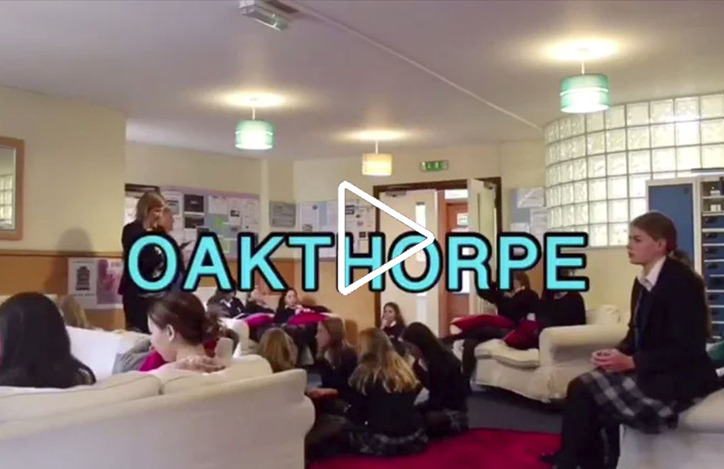 Our house staff are fabulous, and always strive to bring out the best in all the girls in Oakthorpe. We also have support from the rest of the Oakthorpe team: Sophie (our wonderful Matron) who is lovely and makes us tasty treats every day and cake night once a week, which is a real treat as she is an incredible baker; Miss Mackrell (our fantastic Resident Tutor) who brightens our day; along with our amazing House Tutors who each have a specific year group to look after and help with school life. They all make the House such a loving and welcoming environment to live in and we feel as though we are able to go and talk to any of them when we are upset, homesick or just want a chat! We all understand that it can be hard moving into a new boarding school away from home and we're always here for each other as well.
All of the year groups in Oakthorpe get along extremely well and we get to know one another so quickly, creating a "family of friends", which we, as a House, think is so important. We have a Head of House and Deputy Head of House who provide leadership and help to bring all the girls together. We also have our Peer Listener in Upper Sixth – this role gives other pupils the option if they need to talk to a fellow pupil about troubles and concerns in School because they may find it more comfortable than going to an adult, it's great having someone always there to listen and all the Peer Listeners receive special training to prepare them for their roles.
Oakthorpe is a very diverse and inspirational House and all of the girls have lots of different areas of school life that they thrive in, such as music, sport, art, academia and drama. This diversity really shows when it comes to house challenges, such as house matches, house singing and house debating. It is basically a big family that helps each other out and works together to achieve the best we can.
So, if you are looking for a fun and inspiring house that you can thrive in, and you want to make friends who could end up being your 'sisters' for life, then Oakthorpe is the House for you!
Katinka Hughes (Oakthorpe Upper Sixth)
A word from former Head of House, Josie Piech
What's your favourite activity as a House?
There are a lot to choose from!  I love House dinners and family night activities.
What is the best thing about your HM?
She is always there for us, no matter what. She always wants us to be happy and feel welcome and safe in House and around school. She's very caring and friendly and always has a positive attitude.
What is the best treat or baked item that your Matron makes for you?
Brownies…and mini pizzas!
What's the most popular in-House activity?
We all love cake nights and movie nights. On cake nights we sit and chat about things in House, general school life and everything else.
What do you do in House with the other year groups?
We have 'Family Nights' which involve all year groups. Shells are also allocated a 'House buddy'.
STAFF
Housemaster:
Alex Waring
Tutors:
Lauren Bray (Assistant Housemistress)
Louise Duffy (Resident Tutor)
Henry Bennett
Joe Cazabon
Marie-Laure Delvallée
Anastasia Elliott
Camilla Holder
Alex Waring
House Matrons:
Sophie Sydenham
Karen Oliver
Head of House:
Blanche Le Grice
Deputy:
Liia Ishmuratova
Gigi Whipp
School Prefects:
Freya Burdon
Tiggy Jones
Nia Willis