Field House
A brief Q&A with Housemaster Mark Hanslip:
Would your son be happy at Field House?
Almost certainly.
What evidence do you have for such a claim?
The fact that our wide range of pupils, both in terms of personality and ability, universally seem to enjoy being in Field House and are proud to be Field House boys. This is by far the most important thing to say about Field House. We are very proud of the warm welcoming atmosphere and I feel passionately that if people are happy in the environment in which they live, they will succeed in other areas. Field House boys are renowned within St Edward's and the wider community for producing young men of character, with vision, integrity and courage. I would very much like that to be the reason why boys and parents choose to come to the House.
What effects does this have?
Field House boys have flourished in almost all that they have done and have played major parts in every aspect of School life. Our pupils have done very well in terms of public exams and always compare favourably with others in terms of internal assessments. Senior positions within the School community are often held by Field boys and this is because of the respect they are afforded by pupils, parents and Common Room.
What will your son be like when he leaves Field House?
Honest, reliable, trustworthy and undoubtedly a man of character. I hope, most of all that he will be the best version of himself. I know that he will strive to get the best out of those around him. I hope too that the things he has experienced and learnt in Field will play a positive role in shaping the rest of his life.
What about the House itself?
The House is set amongst the School's extensive sports fields. Our rooming arrangements are designed with academic achievement and social integration in mind. The Shells or first years have a day room where their prep is supervised by a prefect and the pupils in House that they have the most contact with are the Upper Sixth, who at all times are excellent role models for them. In the Fourth Form (2nd year) boys share in twos or threes, in the Fifth Form they are generally in pairs, in the Lower Sixth they are almost all in single rooms and in the Upper Sixth pupils are guaranteed their own rooms.
My Family
I have a wonderful wife Rosalind, a Year 4 class teacher at Chandlings Manor, two remarkable children, Charlotte and Lucy, and two cats you may or may not see should you visit Field House.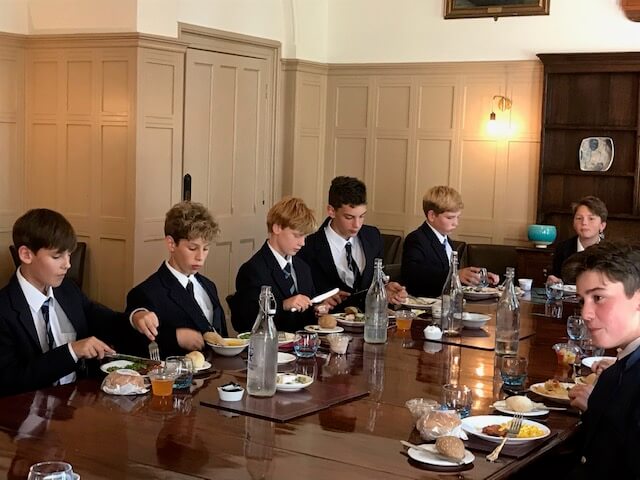 A word from Head of House, Harvey Machin:
My favourite activity in House is definitely lobby cricket or ping pong when the whole House gets involved. Watching events such as House challenge and House debating is also great fun. The best food in House has definitely got to be Mr Hanslip cooking on a Saturday evening – nothing beats it! The best thing about Mr Hanslip is that he his so supportive and always so upbeat, he is always looking out for you and supports you in all your endeavours. The best thing about our Matron Nicky, is that she is caring and kind, you can always go into her kitchen and have a cup of tea with her. Field House has a massive sense of community no matter if it's sport, debating or challenge, everyone always sings the House Song or cheers.
STAFF
Housemaster:
Mark Hanslip
Tutors:
Becky Drury (Assistant Housemistress)
Matt Strachan (Resident Tutor)
Lawrence Tao 
David Aldred
Stuart Bartholomew
Henry Chitsenga
James Sinclair
Fiona Wickens
House Matron:
Nicola Henderson
Head of House:
Harvey Machin
Deputy:
Gus MacLeod
School Prefect:
Jack Barrett
Harrison Wells
Please click on the images below to enlarge, and view a gallery of Field House.