What's On
| | |
| --- | --- |
|   |   |
| Friday 11th December | Teddies Uncorked – Friend's virtual Blind Wine Tasting |
| Thursday 14th January | Friends' Book Club – I Love You Too Much – with author Alicia Drake |
See below for more details of events. 
Friday 11th December – Teddies Uncorked – Friend's virtual Blind Wine Tasting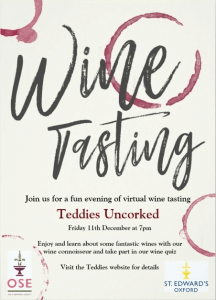 We are pleased to announce our Virtual Wine Tasting event, Teddies Uncorked, is taking place on Friday 11th December, 7pm. This is an opportunity for parents, staff and OSE to come together, virtually, have fun, taste and learn about some quality wines in a light-hearted, engaging way and enjoy  a quiz in small breakout groups.
The case of wine (which includes 4 x half bottles and 1 x whole bottle of good quality, mystery wines) costs £48 (including P&P) and there is limited supply so will be allocated on a first come first serve basis.
To order a case and for full details please visit Haynes, Hanson & Clark Wine Merchants here.
Please email friends@stedwardsoxford.org if you have any queries.
Thursday 14th January 2021 – Friends' virtual Book Club with Author Alicia Drake 
Following the success of our first book club meeting, we are delighted to confirm our 2nd virtual Book Club will take place on Thursday 14th January 2021 where we will be reviewing I Love You Too Much. Author Alicia Drake will also be joining us.
I Love You Too Much is a novel of extraordinary intelligence and heart, a devastating coming of age story told from the sidelines of Parisian perfection.
In the sixth arrondissement everything is perfect and everyone is lonely. This is the Paris of thirteen year-old Paul. Shy and unloved, he quietly observes the lives of the self-involved grown-ups around him: his glamorous maman Séverine, her young musician lover Gabriel and his fitness-obsessed papa Philippe. Always overlooked, it's only a matter of time before Paul sees something that he's not supposed to see…
Seeking solace in his unlikely friendship with tear-away classmate Scarlett and the sweet confections from the elegant neighbourhood patisseries, Paul yearns for unconditional love. But what will he do if he can't find it? 
Please do join us and RSVP to friends@stedwardsoxford.org. 
The Friends' virtual Book Club provides an informal way for parents to catch up, albeit virtually, and to discuss literature from a range of genres. If you would like to suggest a book for a future review, please email friends@stedwardsoxford.org .