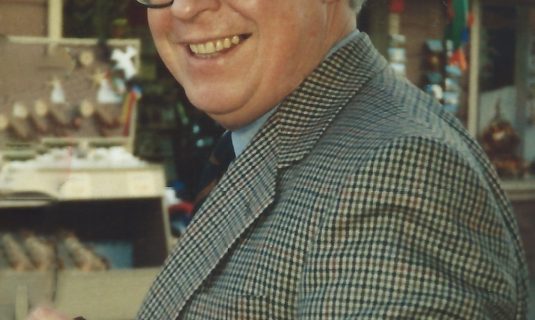 Richard Skilbeck
Class of 1954
Richard Swithun Skilbeck, 1936-2020 (Field House, 1950-1954)
On 22nd July 2020 Richard (Dickie) Skilbeck – father of Ed (Field House.1978-1983), Henry (Segar's, 1981-1983) and grandfather of Alice (J, 2019-present) – passed away. 
Having been evacuated to Field House from St Bede's Prep School in Eastbourne, it was fitting that Dickie spent his years at St Edward's boarding at Field House.  He loved his years at the School and after sending his two sons to Teddies was especially pleased when his eldest grandchild gained entry in 2019.
Upon leaving the school and having gained a place at Cambridge to study history he was obliged to do a year's National Service before going up, and after officer training at Eaton Hall Cadet School joined the 1st BN Northamptonshire Regiment as a 2nd Lieutenant, spending most of his year in uniform in Hong Kong. He loved his time as a serviceman and enjoyed attending regimental reunion dinners for many years.
Dickie went up to Trinity College Cambridge in 1956, and although a promising undergraduate with much expected of him, by his own admission probably enjoyed the social side of life at the varsity a bit more than he dedicated himself to his studies, but he made many lifelong friendships that he treasured greatly.
Upon leaving Cambridge and after a year working for Brooks of Bristol he joined the family firm, Skilbeck Bros, and then in 1961 married Anthea Burnett. Settled in London, he was a very keen golfer and enjoyed racing vintage sports cars and not without a little success. Between 1962-1967 three children, Virginia, Edward, and Henry were born and the motor racing had to stop but was replaced by weekends of golf at The Berkshire GC. Such a large part of his life his wife even took up the game.
In 1974, after the end of his marriage to Anthea, he married Janet Whitley and inherited a stepson, Matthew.  They moved to the village of Ashmansworth, North Hampshire where they lived the rest of their lives.
After leaving Skilbeck Bros in 1973, his life in business was varied and always exciting and he ended his working life turning a small health foods manufacturer into a concern that supplied their products to all the major supermarkets.
As the son of a Liveryman of The Worshipful Company of Dyers he also joined the livery in 1958. He served on the Court of Assistants for 37 years, became Prime Warden of the Company for 1986/7, and enjoyed being a member of various committees, especially the wine committee.
A keen and dedicated golfer he played to a high standard having a club handicap of three for some time, and always enjoyed the many times he represented the Martyrs in the Grafton Morrish Trophy. 
An inveterate storyteller and bon vivant, he was always an integral guest of any party and held lunch & dinner parties as often as it was possible to do so.  He will be much missed by his many friends and is missed every day by his family. 
Richard Swithun Skilbeck – born July 15th 1936, died July 22nd 2020, aged 84. 
If you would like to leave any messages for the family or share any memories please click here.
Print page