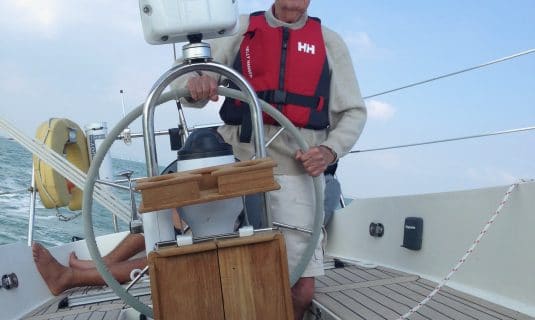 Richard Maude
Class of 1945
Richard Michael Cave Maude, 1927-2021 (Segar's, 1941-1945)
The below obituary was provided by Richard's son, Jason Maude.
Richard Maude was the youngest of 4 brothers to attend St Edward's and was a pupil here between 1941 and 1945 in Segar's. 
The son of a vicar based in the tiny village of Bockleton in Worcestershire, Richard always spoke fondly of his time at St Edward's.
After his time here, he was just too young to join the war effort so was sent to Germany in 1946 as part of the National Service. It was here he developed his instinct for trading and deals, swapping cigarettes for German binoculars and airguns. This skill was to stand him in good stead for his later career.
From the late 40's to 1976 he worked in the City as a metal trader ending up as a director of Tennant Trading. He enjoyed the high rolling business lifestyle of 5 star hotels and first class travel to then exotic places like Australia, Japan, Peru and Bolivia but never took it too seriously which was why, when made redundant at the age of 50, he deserted the city and forged a second successful and ultimately more fulfilling career as an antiques dealer, specialising in tools and medical instruments. He ran his own stall on Portobello Road and developed the knack of buying some obscure tool at one stall and promptly selling it just a few minutes later at 3 times the price – a true dealer! He actually managed to be more successful at his 2nd career of antiques dealing than his more orthodox City career.  
Richard married his first wife, Joy in 1957 in London with whom he had a son, Jason and a step-son, Arturo. Richard was a very practical man and could turn his hand to more or less anything he wanted. After buying a house in Putney which had been run as a series of bedsits in 1969, he set about installing the central heating himself using a book on plumbing. He could repair old tools and make the wood look like a genuine antique. He married his second wife, Min in 1986 and together they ran the successful Portobello Road stall and travelled together to antiques fairs around the world. He was respected in the trade as a knowledgeable and honest expert in his field and he loved talking to other dealers and collectors. He also enjoyed walking holidays around the world with India and Italy being the favourites.
He loved sailing dinghies and was a member of Bosham Sailing Club from the 1950s where he had an Albacore for many years. He and Min moved to Bosham, West Sussex full time in 1989 where they became active members of the village and sailing community.
Richard had a long and remarkably healthy life – prior to a head injury while on a walking holiday in Italy 4 years ago, his worst health problem was breaking an arm as a twenty year old driving his open top sports car into a lamp post! Richard Maude died peacefully aged 93 on December 22nd 2020, in Bosham, West Sussex.
Richard Maude – born December 3rd 1927, died December 22nd 2020, aged 93. 
If you would like to leave any messages for the family or share any memories please click here.
Print page