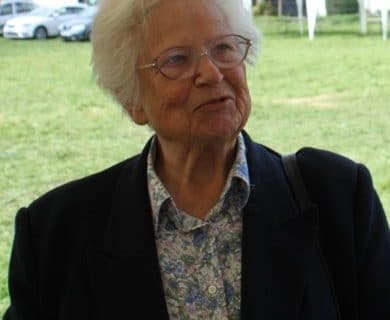 Pam Williams
Former Staff
Pamela Williams, 1925-2020. 
On 27 October 2020, Pam Williams, wife of Duncan Williams (SES 1948-1984 and Housemaster of Tilly's 1964-1976) passed away. This obituary has been provided by her son, Richard.
Pam was born on 12 April 1925 and grew up on the Wirral. In 1948 she met Duncan who also grew up on the Wirral and had just started working at Teddies. As only Pam could say from the moment she met him it was magical.  Duncan was a rock for Pam – a modest, quiet man with great qualities and a lovely, twinkling sense of humour. They were married in 1950 by the then Warden Henry Kendall and so began a lifetime's association with the School. Three sons, Michael, David, and Richard, followed.
Pam and Duncan were one of the outstanding husband and wife partnerships who arrived in the immediate post war era at Teddies: there were a number of them who eventually became the Housemaster teams of the 60s and 70s and the engine room of the School in those challenging heady times for educating boys.  Those partnerships were instrumental in transforming the Common Room away from the batchelor club it had been, and Pam played a huge part in that.
After living in Field House Drive Pam and Duncan moved into the new housemaster's house in Tilly's in 1964:  Duncan Bill and Auntie Pam as they were affectionately known by their 70 boys. She threw herself into the role of housemaster's wife unreservedly, displaying boundless energy, kindness and positivity. She also acted as both a paid and unpaid PA to several Wardens, utilising her secretarial skills that she had learnt working for a surgeon in Liverpool for a number of years before she got married.
She made many other contributions to school life: such as acting as occasional house nurse, doing the chapel flowers, and being a core part of the team that guided prospective parents round the school. She started up the very successful School fetes run for the NSPCC. She helped run the ornithological club, and ran gardening groups in many locations with boys on the DofE scheme, reflecting two of her great loves in life – gardening and birds. She ran the pastoral side of the scholarship programme for some years and continued to do this until she and Duncan retired. And she founded Pam's Party, a weekly nursery which she ran for 27 years for the children of the teachers and associates.
In the Chronicle John Armstrong (the Bursar and former Assistant Warden) wrote on Duncan and Pam's retirement in 1984: " I doubt anyone knows quite how much is owed to Pam. Perhaps I may merely say that I benefit enormously from her competence, I am regularly aware of her kindness and I rely constantly upon her unswerving loyalty to the School". 
For the last 43 years of her life she had her beloved house and garden on the Woodstock Road overlooking the fields and next door to successive Wardens, which kept her in close touch with the School until the end of her life. She loved attending School and Common Room events and Special Gaudies into her nineties.
Pam was also involved in a huge range of causes outside the School. In typical Pam style she not only joined things but was soon immersed in the running of them and in several cases leading them: the local branch of the NSPCC where she was Chairman and President:  Greycotes and Milham Ford Schools governorships; the Oxford Women's Luncheon Club, where she was Chairman and President: Fairfields, a care home on the Banbury Road, where she was on the board for many years: the PBW theatre club which she started up and which she was still attending until lockdown: and Sobell House – she led many gardening parties there from Teddies and eventually became involved with Duncan when he was the treasurer of the Charity. Together in a few years they helped the Charity grow to a point where it was running 3 shops and turning over £4m a year.
Pam died peacefully at home at the age of 95 after a short illness.
Pam Williams – born April 12th 1925, died October 27th 2020. 
If you would like to leave any messages for the family or share any memories please click here.
Print page