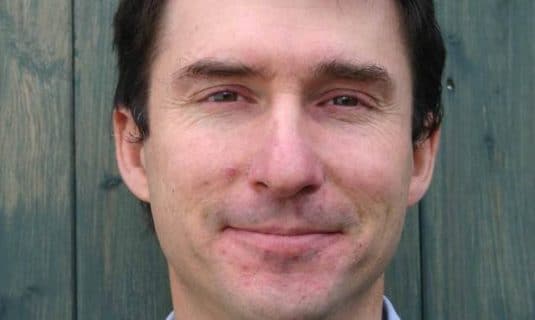 Neil May
Class of 1980
Neil Peter May MBE, 1962-2018 (Segar's, 1975-1980)
The following obituary was taken from The Times:
"Modern life is rubbish," was Neil May's favourite saying, although he did his best to disprove it.
Neil knew nothing about sustainable building techniques when he set out to start a revolution in green construction in 1991 in his native Buckinghamshire. One thing he was convinced of, though, was that building methods of the past, such as timber frames or lime plastering, caused less damage to the environment; he won several awards for sustainable and heritage building projects before he sold Neil May Builders in 2004.
By then he had founded Natural Building Technologies, which provides sustainable building systems. Neil set up a distribution centre in an old aircraft hangar near Wheatley in Oxfordshire, where hard-to-source natural building products could be made available to the trade with expert technical support.
He created a loyal team, for whom he insisted tea breaks were sacrosanct. When the firm was under threat during the global economic crisis in 2008, Neil asked everyone to take a pay cut. All but one agreed.
Neil went on to become a senior research fellow at the UCL Institute for Environmental Design and Engineering (IEDE). Here he became one of the country's leading experts in preventing the build-up of moisture in buildings. Because he had once plastered walls himself, he brought a practical touch to academic debate. He was appointed MBE in the 2017 Queen's Birthday Honours list.
In later years Neil sat on various government advisory panels and acted as a consultant on green retrofitting of public buildings. He was always civil, but never afraid to voice criticism of legislation and regulations. He would bewilder civil servants by talking about the spiritual perspective of sustainable building. A devout Anglican, he was fascinated by medieval mystical theology. He once took colleagues from UCL to Quarr Abbey, a Benedictine community on the Isle of Wight, to help them to understand his research philosophy.
Neil May was born in Taplow, Buckinghamshire, in 1962 and brought up in the village of Cadmore End near High Wycombe. His father was a mechanical engineer and his mother a social worker. Neil attended Eagle House prep school in Sandhurst and St Edward's School in Oxford, where he played for the rugby first XV and directed plays. At school he was known as "renaissance man".
While studying history at St Edmund Hall, Oxford, he met Elizabeth ("Lilli") Quick, a geography student. By the end of the academic year they were an item.
Neil was a dynamic member of the town's Physically Handicapped and Able-Bodied (Phab) club, involving disabled members in making a film, a comedy thriller based on the events surrounding a village barn dance.
After graduating he won a Rhodes Commonwealth scholarship to study for an MPhil in sociology in Delhi, India. Independent of his research he helped to make a documentary called The Sacrifice of Babu Lal Buir, about a murder in the poverty-stricken community in the coal washeries in Bihar state, eastern India. The film's conclusions differed from the official version of events and brought Neil to the attention of the local police and the powerful mafia. The film was shown on Channel 4.
He then decided to do something completely different, returning to Buckinghamshire to work for a builder. After four happy years as a labourer, during which he married Lilli, he set up his own company.
A deep thinker, Neil believed in changing a system that values buildings as financial assets rather than homes. He was heavily involved in Positive Money, a not-for-profit organisation that campaigns for a more sustainable financial system.
Neil prayed and meditated every day. When the village church was without a vicar for two years, he sometimes led services, once offering reflections on the paintings of William Blake.
Indeed, he was deeply rooted in his community. He sent his five children, Joe, Eddie, Benny (who died in 2007), Anna and Jacob, to the village school and supported local events. It was fitting that his funeral was held in the church opposite the cottage where he grew up in Cadmore End.
The following obituary was written by Malcolm Oxley:
 As a schoolteacher one occasionally encounters a teenage pupil who is especially talented,  maybe as  a powerful intellect in the making, a gifted sportsman, an accomplished artist, musician or actor. Whatever the future holds for such pupils one feels privileged to be helping in however small a way towards their education. Neil May who was in my VI Form History class and was an outstanding member of my house, Segar's, was such a pupil. But he was possessed, one sensed, of more than just talent. He had a temperament which was sharp and critical but which exuded what one can only describe as a tolerant understanding of humanity. I recall a puckish sense of humour combined with deeply felt idealism and a sensitivity which was clearly acted out in his later career, his spiritual commitment and his lifestyle. He was a man who made his mark in the world which needs men like him.
The following obituary was written by Martin Stokes. 
Neil May was an academic scholar at Teddies, and a ferocious presence in the classroom from the very outset. Neil's omniverous intellectuality found a natural home in Malcolm Oxley's A-level history class, where his capacity for independent and radical thinking began to take a distinct shape and gather energy. So, too, did his interest in India, his gap-year destination and, later, where he was to study sociology with J.P. Uberoi. Neil was no less of a presence in school life outside the classroom. He played scrum half for a successful First XV. I don't think he played cricket competitively, but a lifelong commitment to his local cricket team in Cadmore End, and, indeed, a passion for watching and talking about sport of almost any kind, took shape on the sports fields at Teddies. He was a thespian, taking major roles in many of Simon Taylor's productions in those days (I recall his Laertes, for instance). He also developed a taste for directing, which led to stagings of Beckett's Waiting for Godot and Endgame, amongst other things. Neil founded Ad Nauseam, the unofficial school magazine, which we produced together using an old-fashioned Gestetner in the School Lodge. We enjoyed our occasional clashes with authority, and learned important lessons about life with a pen in hand. Neil used the magazine to cultivate some outstanding poets in the school (Philip Kennedy and Jeremy Harrod's names spring to mind). He was a fine, and serious, poet himself, writing throughout his life. 
Neil May – born September 20th 1962, died November 1st 2018. 
If you would like to leave any messages for the family or share any memories please click here.
Print page