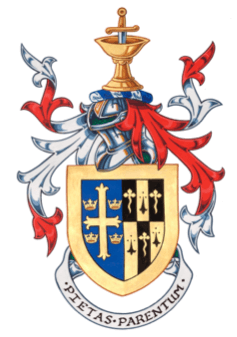 John Round-Turner
Class of 1951
John Lewis Round-Turner, 1934-2021 (Cowell's, 1947-1951)
The following obituary was taken from the Newmarket Journal.
The funeral of long-serving naval officer and former director of the National Horseracing Museum, John Lewis Round-Turner, took place at St Mary's Church, Newmarket on June 14. Mr Round-Turner, who lived with Irene, his wife of 60 years, died on May 17. He was 87.
Born in Sandakan, British North Borneo (now known as Sabah), where his father was a captain in the BNB Armed Constabulary, Mr Round-Turner returned to England just before the start of the Second World War and, after education at St Edward's, Oxford, enrolled at the Royal Navy College, Dartmouth, in 1952.
His first ship, as a midshipman, was the aircraft carrier HMS Unicorn in the Middle East, followed by further training abroad HMS Morecambe Bay and HMS Tyne, before leaving for submarines. His first command of HMS Renown, one of the Polaris subs. Following a spell as an instructor, he went to sea again in the nuclear attack submarine HMS Conqueror, which was later, but not under Mr Round-Turner's command, to sink The Belgrano in the Falklands War.
In 1977, he served on the Staff of Naval Attache in Washington as submarine liaison officer and, back home once more, joined the Ministry of Defence in the Directorate of Naval Warfare before being promoted to Deputy Director of Naval Logistics Planning during the Falklands War. His final job was Director of Naval Foreign and Commonwealth Training from which he retired in 1989 after 37 years' service. Mr Round-Turner joined the British Horseracing Museum, then in premises adjoining the Jockey Club in Newmarket High Street, and took over as director following the death of the museum's founder, Major General David Swannell, in 1992. He held the post for seven years overseeing the addition of an art gallery extension paid for by the British Sporting Arts Trust and a steady increase in the number of visitors.
As well as a lifelong interest in racing, Mr Round-Turner was an enthusiastic bell ringer and had rung in churches wherever his career had taken him. Latterly he belonged to the bell ringing teams at St Mary's Church, Brinkley, and St Mary's, Newmarket, where his colleagues rang bells for his funeral.
Mr Round-Turner leaves his widow, daughter Jane, a market researcher, son Charles, a musician, and four grandchildren. The funeral service was conducted by the Rev John Hardy and was followed by an outdoor lunch for family and friends at the Horseracing Museum where a bench has been named in his memory. 
John Round Turner – born May 3rd 1934, died  May 17th 2021, aged 87.
If you would like to leave any messages for the family or share any memories please click here.
Print page