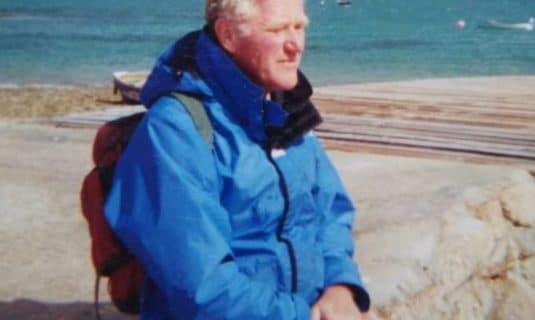 John Ayrton
Class of 1955
John Ayrton, 1937-2020 (Cowell's, 1951-1955)
Died on the 5th July 2020. Father to (7442) Simon Ayrton, (9235) Katie Bradley. RN 1957. BRNC Dartmouth 1957-1959 Lt resigned 1966. Chartered surveyor 1969 FRICS. Banks & Silvers, Worcester partner 1975. Retired in 1982, London Marathon.
John died on July the 5th 2020 after several years of declining health and Dementia but having achieved a full and active life. Following his time at Teddies (Cowells), he entered Dartmouth Royal Naval college and 3 years later passed out as a Sub Lieutenant and joined HMS Tiger in Malta. Followed by HMS Ark Royal in Gibraltar. During that time, he decided to pursue a flying course, and returned to England to be trained by the RAF at Linton on Ouse in Yorkshire. During his training he married Julia, a nurse at St. Mary's Hospital Paddington, and they lived in York until he obtained his" Wings". He was then posted to the Royal Naval air station at Culdrose in Cornwall, flying Gannets an Air Early Warning plane. He and Julia lived there for over a year before John was posted to the Persian Gulf, on HMS Messina. During that time, his son Simon was born (OSE 1976 Apsley). On his return he was posted to Plymouth to pursue a diving course (in the coldest winter of 1962) and having completed that was posted abroad again. Because of his separation from the family, John decided to leave the Navy and retrain as a Chartered Surveyor, which necessitated doing a correspondence course, but also working full-time at Smith's Gore in York. He studied every evening until 10pm, after a full day's work and after some years gained his F.R.I.C.S. During this time his daughter, Lucy, had been born. After completion of his training, he was offered a job in Worcestershire living in Malvern, where he became a partner in Banks and Silvers, who later amalgamated with General Accident. His second daughter Katie (O.S.E 1990. Field House) was born during this time. Beside his work, which he thoroughly enjoyed, he did not retire until he was well over 70 years old. John was a very keen sailor, and loved sailing in the Hebrides, a good golfer, having played since he was young, and living near the Royal Liverpool golf club, an accomplished Runner and Walker and a keen banjo player in a local jazz band.He ran the London Marathon in 1982 in a very respectable time of 3 hours 34 minutes and participated in The Three Peaks Race crewing, and spare runner (in the smallest boat in the race). He did much voluntary work mainly with the sea cadets and as a ferry man rowing visitors from the Cathedral in Worcester across to the cricket ground. He was also a volunteer at St Richard's Hospice and for some years, was the Secretary for the Midlands O.S.E where he organised many an Annual Dinner. He had a great fondness for Teddies, evident in that he sent two of his children there, as well as a Nephew Paul Kilby. John was always full of enthusiasm and had a great zest for life, so it was particularly hard to see him suffer with Dementia in his final years. Julia was able to look after him at home for most of that time but sadly, having had several falls, his last few months were spent in a Nursing Home. He died during the Covid lockdown and only in the last few days of his life, were some of the family allowed to visit him. A very difficult time for all, but he died peacefully under the great care of the staff at Fernhill House in Worcester.
John Ayrton – born December 9th1937, died July 5th 2020, aged 82. 
If you would like to leave any messages for the family or share any memories please click here.
Print page