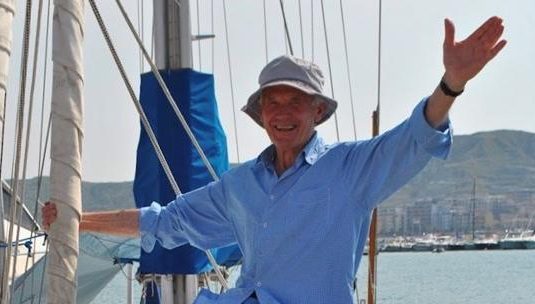 Jim Woodhouse
Class of 1951
James Stephen Woodhouse 1933-2021 (Segar's, 1946-1951)
The following obituary was taken from 'The Times'
When Jim Woodhouse was appointed head master of Rugby School in 1967 he was, at the age of 34, the youngest to hold that post since Thomas Arnold, who was head master from 1828 to 1841 and featured in the novel Tom Brown's School Days (1857). Woodhouse's arrival coincided with the school's 400th anniversary and one of his first duties was to host a visit by the Queen and the Duke of Edinburgh.
His real mission was not to perpetuate Arnold's legacy of "masculinity" or to dwell too much on the school's history, glorious though that might have been, but, he said, to bring a degree of humanity to a school that took itself too seriously. Girls were introduced, starting with the sixth form in 1976; corporal punishment and "fagging" — younger pupils having to do chores for senior ones — were abolished; and Woodhouse made it his mission to learn the name of every pupil, even if he struggled to identify some of their parents.
Standards were maintained but a degree of levity was entertained and even encouraged, including the introduction of a game at the annual leavers' party that resulted in the pupils being able to hit the head master over the head with a rolled-up newspaper. His tenure also coincided with a rise in overseas visits, which Woodhouse supported, including several to Malawi.
After 14 years he moved to Lancing College where, he said, the situation he encountered was the opposite of that at Rugby. Here he had to persuade a school community with a strong arts ethos — old boys included Evelyn Waugh, David Hare and Tim Rice — to take itself seriously in other areas, especially in outdoor activities. Nevertheless, he continued to pursue the more humane policies that he had introduced at Rugby. During this time he chaired a committee selecting entries for Praise and Thanksgiving (1985), a hymn book for public schools, later telling The Times that they had "only chosen hymns that were direct and simple in their words and very singable".
James Stephen Woodhouse was born in Luton in 1933, the youngest of four children of the Rev Jack Woodhouse, vicar of Christ Church, Luton, and his wife, Kathleen (née Harnett), who was also from a clergy family. A sister, Rosemary, survives, though his brothers, Robin and John, predeceased him.
His father's ministry took the family to Huddersfield and then to Jesmond in Newcastle before they settled in East Anglia where he became bishop of Thetford. Woodhouse was educated at St Edward's School, Oxford, did his National Service with the 14th Field Regiment Royal Artillery in Hong Kong and read English at St Catharine's College, Cambridge, where he was a decent middle-distance runner and a respectable cricketer.
In his early twenties he and his brother Robin acquired a 21ft plywood yacht, taught themselves to sail and crossed the North Sea to the Netherlands. Another sporting interest was skiing. From a group of 16 friends who went on a trip to Obergurgl in Austria, there were four marriages, including his own in 1957 to Sarah Blount, who was by his side at Rugby and Lancing.
Sarah survives him with their children: John, who works in risk management; Mike, a teacher and cabinet maker; William, a retired natural swimming pond designer; and Hannah, who makes cast bronze lamps. Woodhouse enjoyed introducing them and later his 11 grandchildren to outdoor life including sailing, fishing and hill walking.
His first teaching appointment was as assistant master at Westminster School. In the early days he and Sarah lived in a flat at the top of the footman's tower in Lambeth Palace, which involved navigating a narrow staircase with their small children and pushchairs. The upright piano that Sarah gave him as a wedding present, and which he played with enthusiasm, had to live in the palace basement until they moved out.
Woodhouse, a slim, tall man with a warm, friendly smile, enjoyed music in many forms. His pupils at Westminster included a youthful Andrew Lloyd Webber, though his own attempt at writing a musical, based on Rudyard Kipling's Just So stories, did not match his pupil's for commercial success.
He wrote hymns, plays and a son-et-lumière production, and had a fine bass voice that was put to good use in various choirs. A great reader, especially of Victorian novels, he also had a mastery of verse and when fed a line from a Shakespeare sonnet could usually recite much of the poem.
He continued to sail, including around Britain in 1974 with his wife and four young children. For 40 years their boat, the Hannah Rose, was moored in the Sound of Mull, from where they invited staff and pupils to join them sailing around the Hebrides. On one occasion he was sailing in the Gulf of Aden when he spotted a boatload of Somali pirates bearing down on his son's yacht and took evasive action.
Perhaps inevitably there were some painful experiences. One such was a letter he had written with the best intentions from Lancing College in 1993 in support of the Right Rev Peter Ball, bishop of Gloucester, who in 2015 was jailed after admitting the abuse of 18 young men. Woodhouse was one of several establishment figures whose words, based on their personal experiences of Ball, came back to haunt them.
Although Woodhouse retired from Lancing College in 1993 he remained active in education as a governor of several schools, both state and private, and as a regional director of the Independent Schools Information Service. For many years he was a church warden and involved in the Bloxham Project, which supports schools with a Christian character. He was also a council member of the RNLI and a director of the Norfolk Boat, a charity that supports sailing opportunities for disadvantaged children and those with disabilities.
Jim Woodhouse, head master, was born on May 21, 1933. He died of heart failure on September 11, 2021, aged 88.
If you would like to leave any messages for the family or share any memories please click here.
Print page