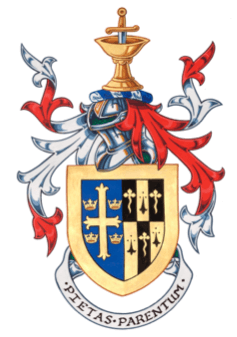 James Franklin
Class of 1972
James Anthony Evelyn O'Leary Franklin, 1954-2021 (Sing's, 1967-1972)
James Franklin died in Cyprus on 26th June 2021, a few days short of his 67th birthday.  He was a good, loyal and generous friend who greatly valued his own friendships.
James was born in Bromsgrove, but brought up in West Lulworth, where his parents were pillars of society who threw legendary parties.  At St. Edward's he was in Sing's House; our Housemaster was Fran Prichard, who, many years later, described James to me as "the most confident boy he had ever known".
At school James seemed to cope effortlessly with the academic side of life.  He was highly intelligent, with a tendency to laziness, as he was the first to admit.  Taking after his parents, he adored parties, and socialising with friends in local pubs of choice.  He was a natural entrepreneur and, while still at school, produced and marketed an excellent tourist guide on Lulworth Cove; another on the Dorset coast was to follow.
The late sixties and early seventies were difficult times for schools, with pupils refusing to accept without protest the obligations of Chapel and CCF.  As a protester, James' activities were covert but effective.  25 years after we left school, James admitted to me that he had called the fire brigade during the 1972 CCF Inspection.  The fire engines arrived just as the Inspecting Officer was trying to address the school and, unable to get through the gates, remained in the Woodstock Road with sirens wailing.  The timing could not be faulted.  In telling me about this for the first time in 1997, James realised that he had been irresponsible, but he did point out that it had been useful, in terms of Health and Safety, to highlight that the Cowell Memorial gates needed to be widened!
His only sporting claim to fame was a victory in the inter-house sculling competition.  Writing to me within a month of his death, James said "sculling was the closest I ever came to enjoying participating in sports at Teddies.  I thoroughly enjoyed the independence of taking a toothpick way downriver, sneaking a couple of cigarettes far beyond the normal cycle range of the masters coaching a four or an eight".  James loved boats and water, having been brought up by the sea. 
Most of James' business life revolved around discotheques and nightclubs, often abroad.  The company he founded designed the nightclubs for a number of Oberoi hotels in India and Egypt. When I visited Cairo on business in the eighties, James entertained me on what was said to be the best Nile cruise ship, on which he had installed a disco with sophisticated sound and lighting effects, which he demonstrated during the course of a memorable evening.  Although this was not my scene, I could see that James was in his element. 
In the mid-eighties, James was involved in a terrible car accident, resulting in serious leg and back injuries from which he would never fully recover.  He was told then that in old age he would suffer increasingly from pain and arthritis, which is one of the reasons that he increasingly worked and lived abroad, in warmer climates.  He had first visited Cyprus on a family holiday, and gradually came to like the island and see it as home.  He had a cottage in Lania in the Trudos Mountains, where he spent his final years.
I visited James in Cyprus six years ago.  Although he had already had a leg amputated and was in hospital about to undergo a major operation on his spine and a possible second leg amputation, he was characteristically stoical – without complaints or self-pity, he remained positive and interested in his friends.  We laughed about times past.  That was the quintessential James – caring and great fun, gutsy, always looking on the bright side of life.  Future visits from friends were politely declined, we thought because James didn't want us to see him severely impaired.
James did not have an easy or distinguished life, but he was a very decent man – straightforward, kind and with his own integrity.  The sadness felt by his many friends, when news of his death emerged, is tempered by a sense of relief in the knowledge that finally James had been released from years of suffering and physical decline.  An agnostic but a firm believer that physical death is merely a transition for the spirit, James has, in his own phrase of choice, "gone up to the clouds".
This obituary was provided by Galen Bartholomew.
James Franklin – born July 2nd 1954, died June 26th 2021.
If you would like to leave any messages for the family or share any memories please click here.
Print page