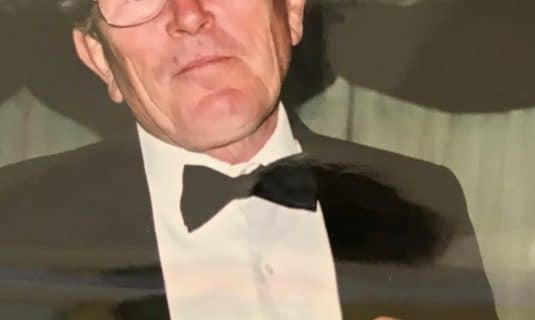 Derek Jones
Class of 1953
Derek Jones, 1936-2020 (Apsley, 1949-1953)
Derek was born on the 19th May 1936, the youngest of three children he began his education at St Louis Preparatory school in Banbury, before going on to join St Edward's from 1949-1953.
He was called up for National Service in 1955 and joined the Royal Artillery, he was commissioned at Mons and later stationed in Osnabrück. After leaving the army he joined the family business, SH Jones & Co, a well-known Banbury based wine merchants, set up by his grandfather in 1877.  Starting off in a sales role, he took the opportunity to simultaneously obtain a degree in Management Studies, and eventually became joint Managing Director with his cousin Michael Jones. 
As a founder member and Vice Chairman of The Merchant Vintners Company Derek's passion and interest for the grape helped him to travel all over the world. Throughout his years in the wine business he met many interesting and likeminded individuals, many of whom became lifelong friends.
He married his wife Marijke (née Damstra) in 1961 and went on to have three daughters. With a strong interest in the education of young people he was Chairman of the Governors at Wychwood School, Oxford from 1980-2002 and then later became Chairman of Trustees 2008.
A committed Christian, he was both Treasurer and Church Warden of St Mary's, Warkworth for many years; a long-term volunteer for the Samaritans and in retirement, at Katherine House Hospice in Adderbury.
A bon viveur in every sense of the word he was great fun to be around and lived life to the full. Still skiing into his eighties, Derek was also an avid gardener, fine croquet player, walker and accomplished musician.
Derek died on the 26th February 2020 at the age of 83. He was the beloved husband of Marijke, adored father of Karen, Nicola and Melissa and grandfather of Theo, Louis, Claudia, Isabelle and Benjamin – he is greatly missed by both family and friends.
Derek Jones, born May 19th 1936, died February 26th 2020.
If you would like to leave any messages for the family or share any memories please click here.
Print page