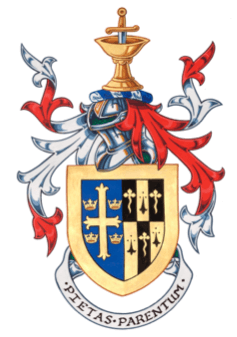 David Rogers
Class of 1940
David Arthur Rogers, 1921-2020 (Apsley, 1934-1940)
The following obituary is taken from the Church Times and provided by daughter, Anne.
THE Ven. David Arthur Rogers was born in a South Yorkshire vicarage, the eldest of six boys, on 12 March 1921. His father and both grandfathers were clergymen, and, from an early age, he felt drawn to follow his family into the ordained ministry. His schooling was at Aysgarth School, Bedale, and later St Edward's School in Oxford.
Aged 17 at the start of the Second World War, he tried to enlist, but was too young; so he joined the Oxford City Local Defence Volunteers, and, in 1940, joined the Bedfordshire and Hertfordshire Regiment as a Private and potential Officer. In 1941, he was commissioned into the Green Howards Regiment and later transferred to the Royal Armoured Corps.
His most interesting service during the war was with the GHQ Liaison Regiment (Phantom) under the command of Field Marshal Montgomery. There, he was part of a small innovative communications network that Montgomery had established to ensure that he had the speediest, most accurate information from the front. Phantom became Monty's personal eyes and ears.
As part of a Phantom information co-ordination unit, David sat at the centre of the spider's web when a dramatic message came through on 3 May 1945. He later recalled: "I was actually on duty when the message came through from one of the senior commanders near the front line that a senior German officer wanted to come through and negotiate the surrender of the German army, in front of all of Monty's forces."
After the war, he read Classics at Christ's College, Cambridge, and then went on to Ridley Hall, Cambridge. He was ordained deacon and then priest in 1949. He served his title at St George's, Stockport, before becoming Rector of St Peter's, Levenshulme, Manchester, in 1953.
In 1959, he was appointed Vicar of St Andrew's, Sedbergh, Cumbria, which included Cautley and Garsdale, a post he held until 1979. He served as Rural Dean and was made an Honorary Canon of Bradford Cathedral.
In 1977, he was appointed the Archdeacon of Craven, also in the diocese of Bradford, and he served in the General Synod of the Church of England. He also chaired the Council of Parcevall Hall, a diocesan retreat and conference centre in North Yorkshire.
In 1982 and 1986, David and his wife, Joan, had the pleasure of being invited to the Royal Garden Party with his daughters; he was honoured to receive Royal Maundy money from the Queen at Bradford Cathedral in 1997.
During his ministry, he was much involved in education, as chair and governor of several local schools and colleges, and he served on the diocesan board of education.
After his retirement in 1986, David remained deeply involved in community and church life in the Kirkby Lonsdale area and later in Sharnbrook, Bedfordshire, where he celebrated the 60th anniversary of his ordination. Throughout his retirement, he also committed much time, regionally and nationally, to the work of the Retired Clergy Association.
David died on 23 November, aged 99. He was predeceased by his wife, Joan, and son, Jeremy; he leaves his daughters, Janet, Rosemary, and Anne.
David Rogers – born March 12th 1921, died November 23rd 2020, aged 99. 
If you would like to leave any messages for the family or share any memories please click here.
Print page