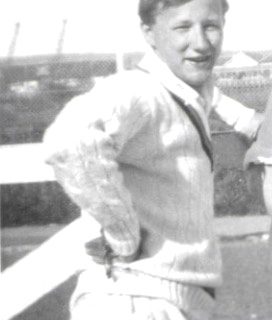 David Backhouse
Class of 1947
David Gilbert Backhouse, 1928-2021 (Sing's, 1942-1947)
The following obituary was provided by Paul Backhouse OSE (David's Son).
I am not sure why my Grandfather chose St Edward's for his only son but I think it may well have been the School's strong Anglican tradition. As a clergymen himself, he would have been delighted that David's housemaster in Sing's was the Reverend Leslie Styler. When I followed my Father into Sing's House 30 years later, he was equally delighted that my Housemaster was Fran Pritchard, a Member of the M.C.C!
At Teddies, David was happier on the cricket field than the classroom. After taking a great quantity of wickets in 1945 in House Cricket, he was promoted straight into the First Eleven the following year and remained in the team throughout the 1946 and 1947 seasons. His best bowling performance was 6 or 56 against the visiting M.C.C Team, This performance was described as "one of the best spells of bowling seen on the school square for many years". He went on to represent the R.A.F during his national service and he also played a couple of games for Sussex 2nd Eleven.
He began to train as a Solicitor but it was too office-bound for him. So he turned to teaching as a career. For over 30 years, he taught at two preparatory schools in Berkshire – Lambrook and Haileybury Junior School. This, of course, enabled him to coach Cricket to generations of boys. He was always proud when his protégées went on to play for their Public School and University Teams and also became County Cricketers.
David was married to Jane for more than 65 years. They spent a happy retirement together in Seaford, East Sussex, where David was an active member of his local Probus Group and Amateur Dramatics Society. When Jane died, shortly before the Covid pandemic, David faced his grief and loneliness with courage and tenacity.
Our final conversations were still about Cricket as he bemoaned England's dearth of proper Test Batsmen. During his final week, when the weather was particularly warm, we reminded each other of a story he used to tell about his Sing's Housemaster. When asked how to keep refreshed on a hot day, Leslie Styler had replied, "Drink lots of tea". The curious boy responded, "Why, Sir?" to which Styler answered, "Because it is hot".
David Backhouse died on 25th July 2021. 
If you would like to leave any messages for the family or share any memories please click here.
Print page