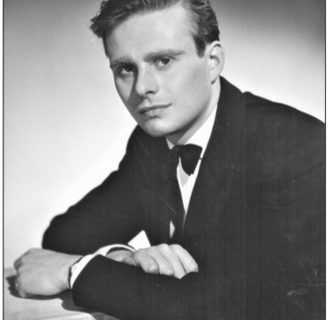 Andrew Liévin-Lieven
Class of 1952
Andrew Liévin-Lieven 1933-2020 (Cowell's, 1947-1952)
The following obituary was provided by Andrew's wife, Pamela Liévin-Lieven. 
Andrew was born in Berlin on 23 September 1933. Work began that day on the first Autobahn – a big step forward, but things were becoming increasingly repressive and dangerous in Germany.
Andrew's mother Tania, the second wife of his father Albert, was of Russian descent. They were both actors, and in 1937 Tania managed to get a permit to travel and perform in Britain. A month later, Albert and the bewildered three-year-old Andrew boarded a train to join her, with just a single suitcase between them, leaving their home and everything else behind.
Together, they built a new life in this country – Tania going on to work at the BBC and becoming one of the first women directors for Associated Rediffusion, the independent television company then covering London and the Home Counties.
During the Second World War Andrew was evacuated to Yorkshire and attended Ackworth School near Pontefract. As the child of a German family, it was a tough time for him, contributing perhaps to his understated personality and tendency not to shout about his achievements later in life.
He then moved on to boarding school at St Edward's in Oxford. He enjoyed playing cricket and rugby, and he was a prominent voice in the school debating society.
When it came to National Service in the early 1950s, Andrew was reluctant to follow the expected, traditional path into the officer class. So he found himself posted to Kenya with the Army's Devonshire Regiment, at the height of the Mau Mau Uprising there against British colonial rule. Displaying an awareness and attitudes way ahead of his time, Andy, as he was known to his fellow soldiers, strongly supported the Kenyan's aspirations for independence. 
He worked in the Army principally as a Paymaster – demonstrating his reliability in not only making sure that his colleagues were paid on time, but also taking on the role of trusted letter reader and writer for those less literate than himself.
On occasions he was also called into frontline action. But whenever asked to lead patrols, he'd try to find out where the rebel forces were active, then make sure his squad marched in exactly the opposite direction. They'd hole up somewhere safe and Andrew would read Dylan Thomas's Under Milk Wood to while away the time.
This approach didn't always guarantee safety though – Andrew was once able to duck just in time when the group he was in came under fire. He threw himself to the ground, losing his spectacles, but when the coast was clear he was still able to see the row of bullet holes in the tree just behind where he'd been standing.
Another incident from Army days speaks volumes about his character and the way his mind worked. As part of the basic training, he was handed a broken torch. "How would you fix that?" asked his instructor. "I'd take it to an electrician," replied Corporal Lieven without hesitation.
Andrew had taken a similar approach to passing the Cambridge University entrance exam in 1952, before his National Service. Thoughtful and prone to long, careful deliberation even then, he found himself running out of time to complete the paper.
The question set was to write an after-dinner speech, but with ten minutes left he abandoned what he'd done so far and just made up this short verse.
Close to the truth as he later discovered it often was, he wrote in the voice and character of a drunken orator:
Dear Sirs, I am most gratefully honoured
To be standing before you tonight
But my speech I have not remembered
And my head is unaccountably light.
My knees appear lacking in substance
A fact which I can't but deplore
In the light of a growing insistence
That I very soon head through the door
Yes, my speech I have now quite forgotten
It is sad Sirs, then you'll agree
That in view of my present condition
It is by far the best thing that could be.
And so my dear Sirs, you'll permit me
To offer one very last toast
To those who so ably support me
And last, but not least, to my host.
Sixteen lines, 115 words. They did the trick, he passed!  
So after his National Service, he was able to take up his place at King's College, where he studied Modern Languages for two years before switching to English.
Andrew met his wife, Pamela, who was also a student at Cambridge at the time, at a pub called The Mill – an idyllic spot on the grassy banks of the River Cam. Some friends had organised a darts match, and the two found themselves paired up for the game.
The pub served Sussex Merrydown Cider. Smooth, sweet but deceptively strong. And after two glasses of this Pamela was emboldened to ask Andrew about the ring she'd noticed on his left hand as he held his darts.
"Are you married?" asked Pam. "No, I just like to wear my ring on that finger," he replied. "Oh I see," said Pam. "Well in that case I'll marry you!"
And so it was. They married at St Peter's Church in Vere Street, in the heart of London's West End, on 28 December 1957, with just them, Andrew's mother Tania, two witnesses, the vicar and verger attending.
Before their wedding, on a sunny holiday in the Loire Valley in France, Pam decided that the clear water of the river looked perfect for a swim. She waded in but quickly got into trouble in the strong current.
Andrew dived in, caught up and pulled her to safety. Pam had plenty of time to reflect that her fiancé had just saved her life as they trudged back to their car now half a mile upstream.
Through a teaching colleague of Pam's the newlyweds were able to move into a bedsit, kitchen and bathroom in Highgate – part of a house belonging to an elderly gentleman, Mr Bullen. He sent them a very formal letter, inviting them to be his 'guests' – rent-free, but no loud radios! Their daughter, Sally, was born here but when Nick came along it was time to move.
By now, Andrew had had some success as an actor. He performed everything from Shakespeare in repertory at Wolverhampton to pantomime and other deadpan comedy roles in places like Paignton, Hornchurch and Cleethorpes.
Alongside his father Albert he was even among the cast of the 1961 war film The Guns of Navarone, rubbing shoulders with big names like Gregory Peck, David Niven, Anthony Quayle, Anthony Quinn, Stanley Baker and Richard Harris.
But it was an insecure profession, so with his new family responsibilities, Andrew spotted and jumped on the opportunity to go and work in Uganda, setting up the State educational television service there.
The whole family moved to Africa, and it was a busy two years making high-quality programmes for broadcast to schools. His and his colleagues' efforts were undermined only by the fact that at the time many of the country's schools not only lacked televisions but also electricity!
As life for foreigners under President Amin's dictatorship became more difficult, Andrew and Pam decided to leave – arousing some suspicion as to their motives from the Police, but safely boarding a train to sanctuary in Mombasa.
Back in Britain, Andrew took up a job with the Independent Broadcasting Authority, at an office near Harrods in Knightsbridge. Again, he oversaw educational programme making, until he decided to leave; unhappy about ITV's decision to schedule horse racing during the day.
Already an experienced teacher from the locum jobs he used to take on between acting roles, Andrew switched to teaching full-time – first in London then just a few miles from here at Bartholomew School in Eynsham, where he remained until his retirement.
On top of his normal duties, he offered students extra 1:1 tuition in French, German, English, Art and Humanities. And this dedication clearly made a difference – one of his son, Nick's, contemporaries sent an email describing Andrew as 'the best teacher I ever had.'
In his later years, Andrew and Pam lived happily in the house at Combe, built by a neighbour.
He loved tending his garden – tomatoes, potatoes, purple beans, Swiss chard, apples and more. And he also enjoyed frequent trips to Oxford University Parks to watch cricket, plus visits to the city's museums and art galleries.
Andrew passed away on July 19th 2020.
If you would like to leave any messages for the family or share any memories please click here.
Print page