Music
A palpable sense of excitement reverberates off the fully sound-proofed walls of the Ogston Music School. Opened in 2017, the £7m building houses all the facilities any ambitious young musician could wish for.
The building features 20 practice rooms, seven ensemble rooms, the large Weston Recital Room, a rock room, the Fenton Recording Studio, and the Ferguson Sixth Form Music Library.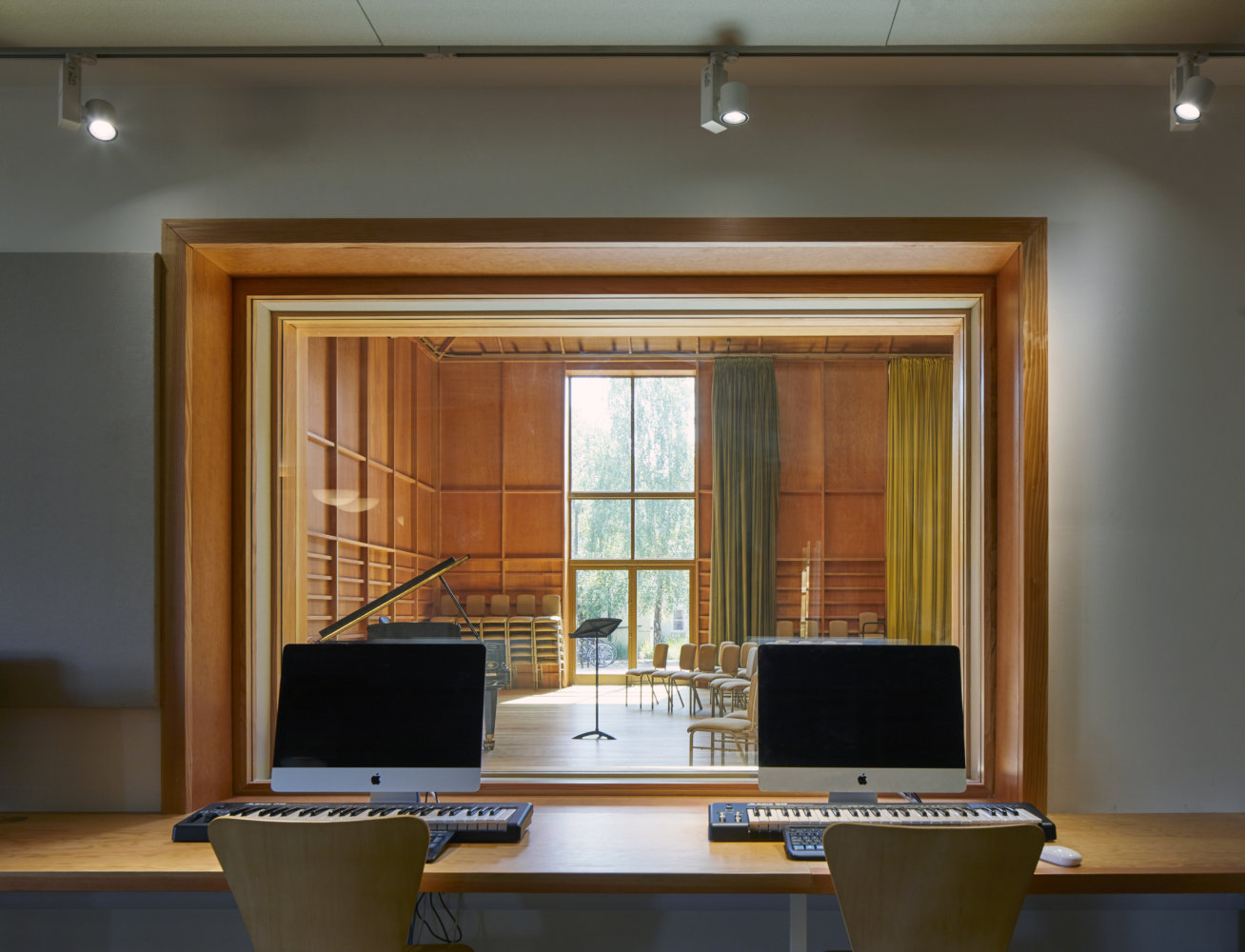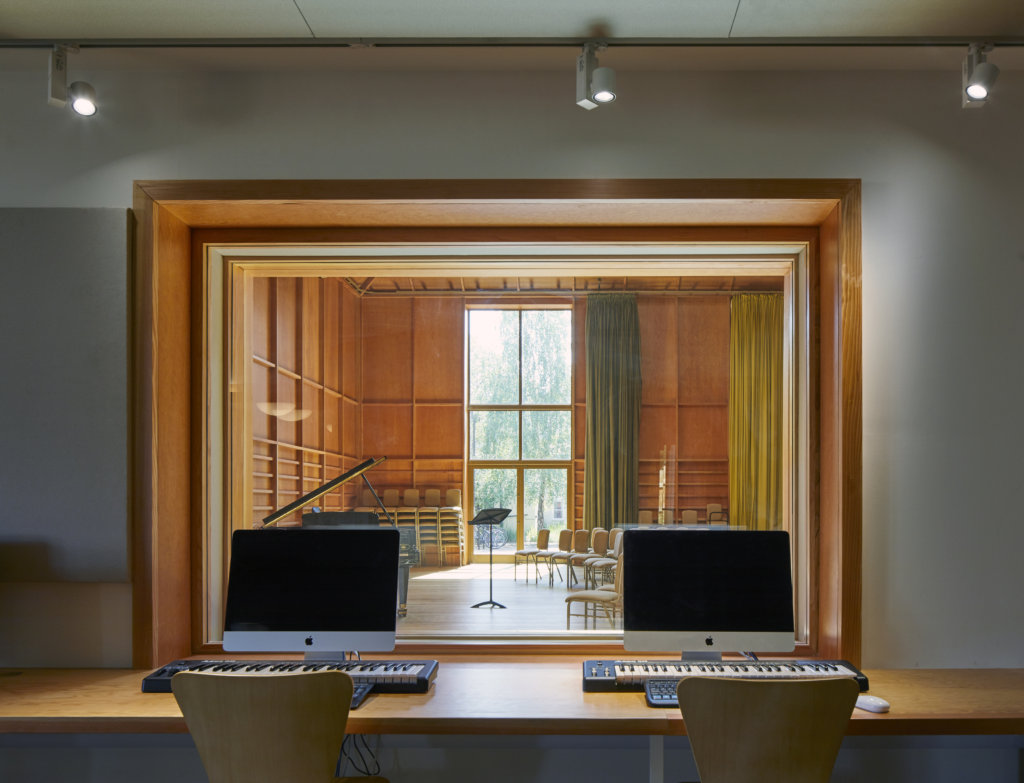 The Music Department prides itself in offering excellent small-set teaching within the purpose-built classrooms and practice spaces, finding the right options for each individual musician, and enjoys very strong results in all qualifications.
Click on the image below to visit and follow our pupil-run music blog. 

A good number of our pupils choose to study GCSE, A Level and IB music each year, with individual musicians coming from a performing, composing or academic perspective. GCSE, A Level and IB are all based upon three different strands of study which consist of Performing, Composing and Listening.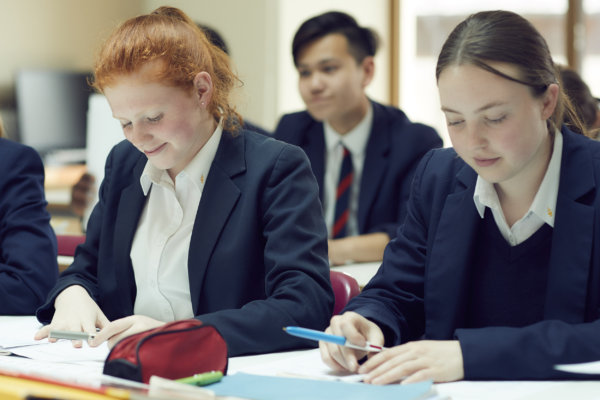 Set works covered vary from qualification to qualification. At GCSE, breadth is the key, with eight set works studied across the vast musical spectrum. These include classical music from instrumental works 1700-1820, vocal music both classical and popular, music for stage and screen, and fusions of different world music styles. Similarly, at A Level, candidates look closely at Western art music from 1650-1910, including Baroque solo concerti, Mozart opera and Romantic piano music, plus Music for Theatre and 20th century art music. IB pupils study two major works in detail (one only at Standard Level): Bach's Brandenburg Concerto no. 2 and Kodály's Dances of Galanta. All courses stress the importance of wider listening from across the complete spectrum of music including all time periods and from all over the world. Sixth Form pupils studying for their A Level and IB Diploma have the added benefit of utilising the expansive collection in the Ferguson Sixth Form Music Library.
The Shell course complements these qualifications. It introduces pupils to all three strands, with a varied scheme of work encouraging group composition and performance tasks within solid study of varied musical topics — everything from jazz improvisation to world music and music technology.
Music technology options are available throughout all of our courses with pupils able to work on Sibelius for score-writing, Ableton Live for DJ and remix work, and Logic X for recording and sequencing work. Performers can choose to use music tech as their first instrument, if they feel they have enough experience. The School also offers A Level Music Technology on request, for pupils who have built up experience with computer music in the Lower School.
Musicians at St Edward's are able to combine their academic music with all of the performing and extra-curricular work available. In fact, the range of musical activity is extensive and covers virtually every facet imaginable from choral music, close harmony choir, chamber music, orchestra and bands to jazz and swing, rock, pop and musicals. The School stages House concerts and singing competitions every year with a major musical every two years. Masterclasses are held with visiting musicians and trips to both operas and concerts are regular events.
We have a good record of preparing students for Oxbridge music, choral and organ awards, music college entry, and higher education courses involving music and music technology.
Click on the video below to see how The Ogston Music School is transforming the academic musical life of St Edward's School: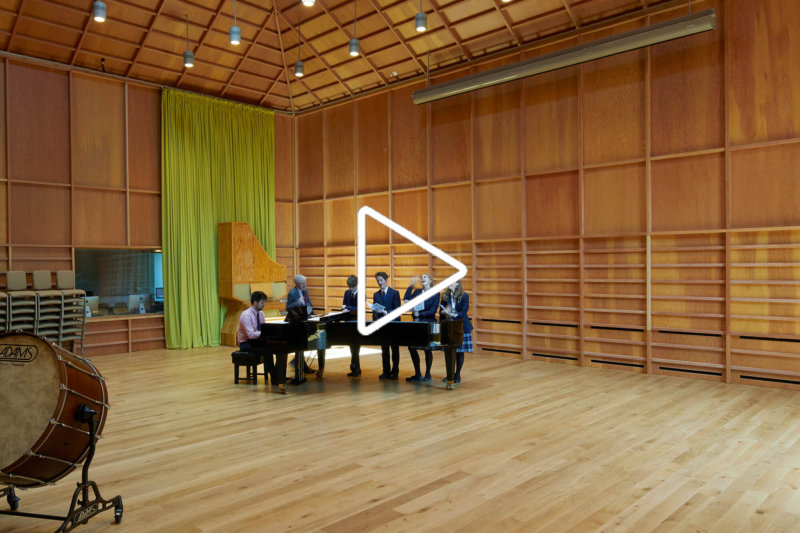 Exam board followed: Edexcel GCSE, AQA A Level, Edexcel Music Technology A Level, IB in group 6 at Standard or Higher Level.
For further information about the music programme, including for prospective music scholars please email the Director of Music.  For further information about the concert programme please email the Music Secretary.
Architectural photography by Paul Riddle.
Director of Music: Alex Tester
Head of Academic Music: Jack Thompson
STAFF
| | |
| --- | --- |
| Alex Tester | MA, late Organ Scholar Fitzwilliam College, Cambridge  |
| Jack Thompson | BA, Music, University of Durham. MMus, Cambridge. MEd PGCE, FRSA |
| Lawrence Tao | BA Combined Hons in the Arts: Mathematics, Music, Latin  |
| Neville Creed | MA, late Choral Exhibitioner of Trinity College, Cambridge |
| Richard Powell | GRSM (Hons), LRAM (Royal Academy of Music), ARCM |
| Gabriele Damiani | BMus (Kent); GSMD; ARCO |
| Jack Fairbrother | BSc Music and Sound Recording, University of Surrey  |
| Annabel Sargent | BA, Oxford (Graduate Music Assistant) |
| Merlin Blackham | Graduate Music Tech and AV Assistant |
| Ghislaine Isherwood | LHCIMA HND (Departmental Secretary) |
VISITING MUSIC TEACHERS
| | |
| --- | --- |
| William Armstrong | BA (electric and acoustic guitars) |
| Cara Berridge | BMus DipRCM (Cello) |
| Florence Cooke | BA (Cantab) MMus MMP (Violin) |
| Stephen Cutting | BA, ARCM, ALCM (trumpet) |
| Tim Dawes | BA, MSc (jazz piano) |
| Peter Dixon | BSc (electric and acoustic guitars) |
| Jill Donald | GTCL, LTCL (piano) |
| Steve Duffy | (bagpipes) |
| Stephen Dunstone | MA (harp) |
| Sarah Dytor | ARCM (violin) |
| Judith Ellis | GRSM (Hons), LRAM (violin) |
| Heidi Fardell | BMus, MMus (recorder) |
| Judith Gairdner | LRAM (piano) |
| Marilyn Groves | LRAM, LTCL (singing) |
| Ben Hall | BA (piano) |
| John Halliday | (drums/percussion) |
| Elizabeth Harré | LRAM, GRSM (double bass) |
| Alex Hehir | (music technology) |
| Gary Howarth | BSc, MA (composition and accompaniment) |
| Lisa Howarth | MA, MMus, MMP, MPerf (singing) |
| Claire Isdell | BA LRAM DipRAM(piano) |
| Anne Law | GRSM, ARCM, Dip PG (oboe) |
| Bethe Levvy | BMus, MA (piano) |
| Robert Manasse | BSc, PhD, ARCS, ARAM, LRAM, Adv Cert, RAM, (flute) |
| Bruce Martin | BA, Adv Cert RAM (flute) |
| Duncan McNaughton | MA (trumpet) |
| Jonathan Morgan | (drums/percussion) |
| Craig Ogden | BMus DipRNCM(Classical Guitar) |
| Andrew Palmer | BMus (piano) |
| Anna Phillips | BMus, ARCM (singing) |
| Ning Pookhaothong | BMus, Adv Cert TCL (piano) |
| Wallace Ruby | LTCL (percussion) |
| David Stuart | BA, MMus (singing) |
| Lucy Tugwell | BMus, MMus (saxophone and clarinet) |
| Glyn Williams | LRAM, ARCM, FTCL, FLCM, MSTAT (bassoon, clarinet and saxophone) |
Clarinet, organ, trumpet, trombone, French horn, tuba, euphonium and singing are taught by the full-time members of the music department.