Modern Languages
The MFL Department is committed to developing our pupils' linguistic skills along with their confidence through a well-designed and imaginative programme, whilst naturally, preparing them for the demands of the exam boards and beyond.
T
he three main languages offered are French, German and Spanish, which are examined at GSCE, IGCSE, A Level and IB Diploma. Modern Languages teaching takes place in the Modern Languages Centre. Information Technology is widely used and in addition, there is an extensive collection of foreign language books and magazines in the School Library and pupils are encouraged to follow the news regularly.
All pupils joining the School in the Shells (Year 9) have a choice of two languages from French, German and Spanish. After Shells, all pupils continue with at least one modern language to GCSE level and a large number take two modern language GCSEs.
In the Sixth Form, pupils can opt for French, German or Spanish at A Level or they can also choose to study these languages as part of an IB Diploma course at both Higher and Standard Levels.
In addition to the mainstream languages, it may be possible to study Italian, Japanese, Russian and Mandarin. Teaching can usually be arranged in these subjects for pupils joining the School who already have experience of these languages; however Russian, Japanese and Mandarin are studied 'off timetable'. In all cases this will need to be negotiated with the Head of Modern Languages and the Academic Director when, and if, the appropriate resources are available. We also do our utmost to meet the needs of bilingual students.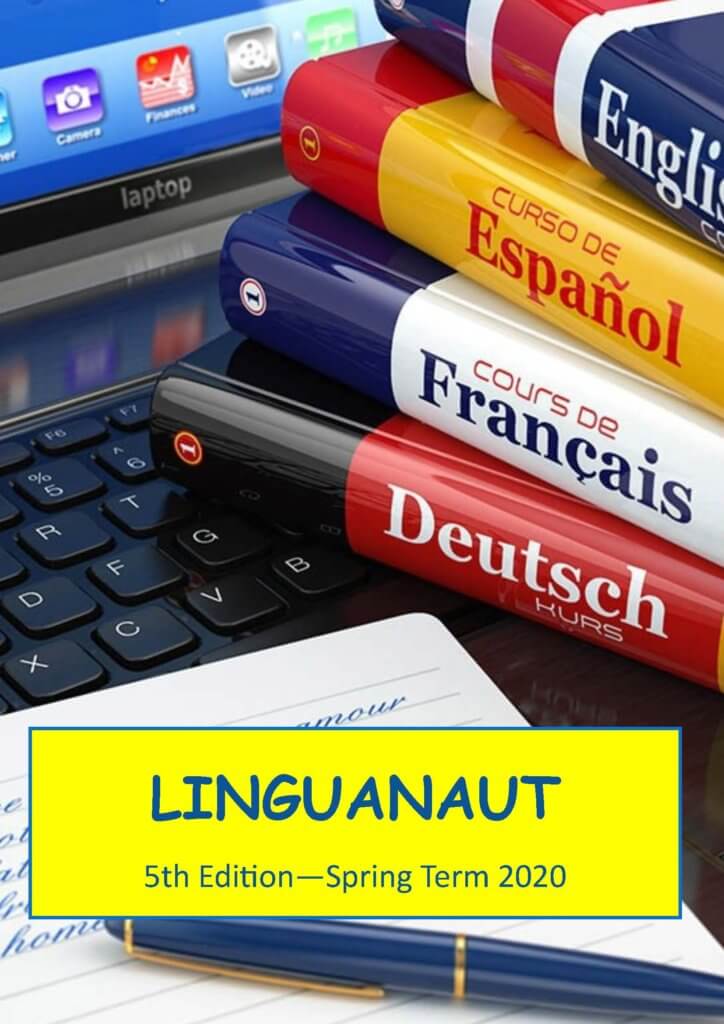 The Linguanaut is a termly languages magazine produced by pupils that offers an impressively wide-ranging selection of topics, written in an equally diverse collection of languages. Click on the image above to read the latest edition.
We offer a variety of activities and visits on a year-by-year basis. For example, a language study trip to Andalusia, a Swiss exchange, and trips to Christmas Markets in Germany and Berlin. We also run very successful languages societies. Pupils regularly take part in cultural evenings; watching films in French, German or Spanish, attending conferences, discussing books, or acting in a foreign language or workshops.
Head of Department: Marie-Laure Delvallée
STAFF
Marie-Laure Delvallée
MA, BA, Université du Littoral (Head of MFL and French)
Jamie Davies
BA, University College, Durham (Head of Spanish)
Suzanne Arbuthnot
BA, Queen's University, Belfast (French and Spanish)
Adib Badri
BA, Fitzwilliam College, Cambridge (French and Spanish)
Stuart Bartholomew
MA, late Exhibitioner of Jesus College, Oxford (French and German)
Solana Cabello Malfetano
BA, University of Malaga (Spanish)
David Caro Solano
MEd, University of New South Wales; PgD, Macquarie University; BA, University of Western Sydney (Spanish)
Nick Coram-Wright
MA, St Andrews University (French and German)
Robert Cottrell
BA, University of Southampton; PGCE University of Buckingham (Spanish)
Paula Diaz Rogado
BA, University of Salamanca (Spanish)
Ann-Laure Davies
Master FLE, BA, University of Pau (French)
Patrick Herring
BA, Gonville and Caius, Cambridge
Luciano Rudolf
BMus, University of Creative Arts, London (German)
Nicoletta Simborowski
MA, Lady Margaret Hall, Oxford (Italian)
Camille Valente
Master FLE, University of Caen (French)
 
 
Language Tutors:
Yue Wang
Mandarin Tutor
Linda Raabe-Marjot
German Tutor
Rosalinda Salera Hounsome
Italian Tutor
Ioulia Ignatievskaia
Russian Tutor
 Muriel Capron
French Tutor
 
 
Language Assistants:
Giorgia Zandona
German
Paula Blava
Spanish
 
 
Lucy Bentley
Modern Languages technician