Teddies and the Kitchen Collective
Since September, Teddies has been part of a brilliant community project with Oxford Mutual Aid – the Kitchen Collective. It was started to provide meals to those in need during the pandemic, and brings together chefs, kitchens and larders from across the city.
Teddies head Chef, Ralph Wiskin, describes his team's involvement: 
'We produce 50 main course meals, 10 of which are gluten free, 25 veggie meals and 75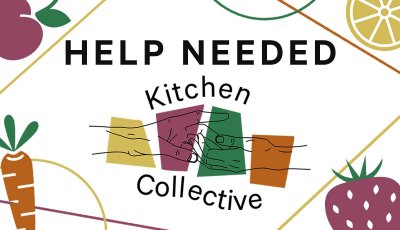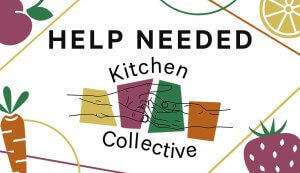 desserts each week, which are collected on a Tuesday at 11.30am.
The food is individually portioned into microwavable, lidded containers after being blast chilled to a food safe temperature. We label with reheating instructions, dish name and allergy information, before packing into trays and storing under refrigerated conditions ready for pick up. The food is exactly the same as we serve to pupils and staff and changes as per the three weekly menu cycle.
Typical main course dishes this term have been beef curry with spiced rice, sausage and mash with onion gravy, chicken chasseur and sweet and sour pork with noodles, and all dishes are served with vegetables. The veggie options have included vegetable bean chilli with yellow rice, parsnip, fennel and squash bake, split pea cauliflower dahl with steamed rice and leek and potato pie with new potatoes and vegetables. Our desserts are usually fruit jellies, muffins, fresh fruit salad, Eaton mess, assorted whole fruits, mixed yogurts, chocolate mousse, profiteroles, pain au chocolates and homemade cakes.
We are very happy to be able to help such a fantastic local and worthwhile charity. The catering team have got to know some of the Oxford Mutual Aid staff (especially Mike) and take great interest in what they are doing and how our food is going down! We have successfully managed to fit the extra food production, packing, labelling etc. into our busy schedule and it's now become a part of our working week. Speaking on behalf of everyone, it gives us great pleasure being able to offer people less fortunate than ourselves a hot meal in such turbulent times.
We also continue to we provide Northern House School lunches (Mon – Fri) and Limes Club lunches (Mon and Tues) every week too.
Where we can, we also get involved with other catering in the community such as providing the Cutteslow Church Christmas dinner last year for 150 parents and children, pictured in preparation below.'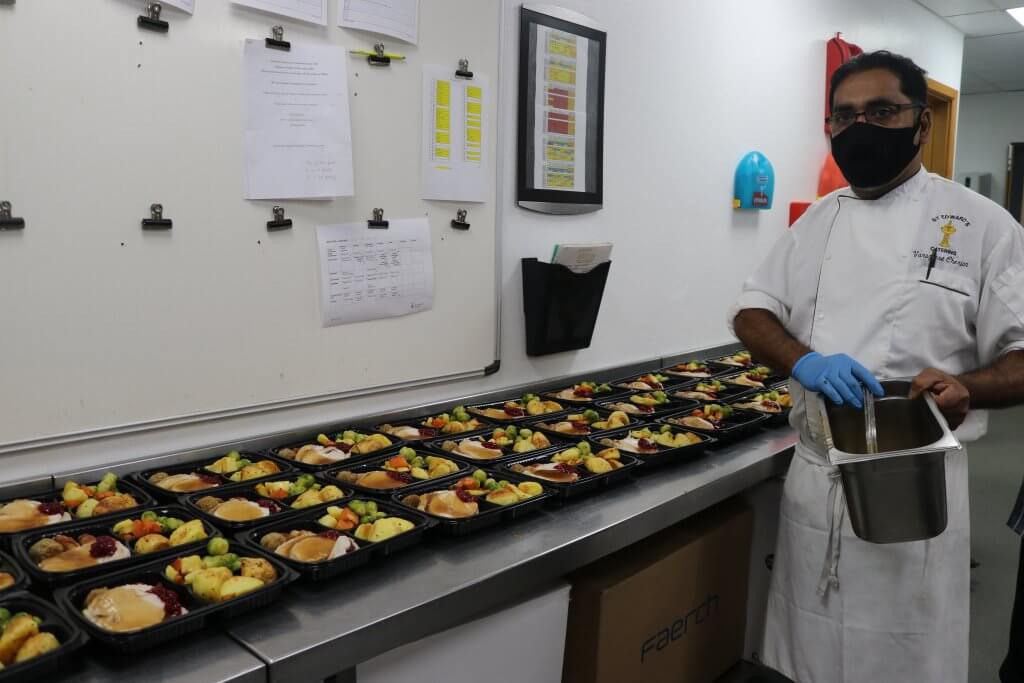 Oxford Mutual Aid Coordinator Muireann Meehan Speed tells the story of how the Kitchen Collective started:
'Just over a year ago, the country went into lockdown. Oxford Mutual Aid formed as different groups pulled together: trade unionists, LGBTQ activists, and local community organisers, to name a few. We needed to plug the gaps in the system and get people the food, supplies, and support they needed. Together, we have built something important. OMA has become one of the biggest support providers in the city and the only source of emergency food support that operates 7 days a week. This is a unique organisation, based on neighbours helping neighbours. We are very proud of what we have collectively achieved over the past year, and we could not have done that without your support. 
Together, we have been able to respond to increasing requests for help. Right now, over 1,400 people across Oxford are getting support every week, including 540 children. This is made up of:
Over 250 households every week receive regular food parcels and other essentials supplies including baby products (nappies, formula, wipes), toiletries and cleaning products. 
Several hundred cooked meals are delivered to over 150 households a week.
Over 250 emergency food parcels every month, to families who simply have no food, referred to us by GPs, social workers or the Council.'
Oxford Mutual Aid continues to welcome donations, volunteers and for people to spread the word about their work. You can visit their website here to support them.
Below are some of the heartfelt reactions from those that have enjoyed the food prepared and distributed by the Kitchen Collective and Oxford Mutual Aid.