Ms. Eldred and Mr. Scates would like to congratulate everyone who entered the Shell Poetry Competition this term. They thoroughly enjoyed reading all the entries.
Rev. Lennon and Rev. Jones were guest judges, and together a shortlist of 8 poems were put together, and they chose their top three.  
The winner was Marcus Scales with his poem Behind the Mask.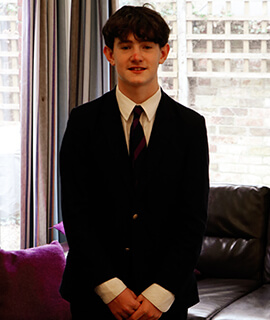 The Reverends said: 'Out loud it reads very coherently. There is an element of mystery – who am I? A very personal poem – 'I've no real face' ? This poem may resonate with young people who try to keep up one image whilst masking their true identity.'
The two runners up were Charlotte Ambrose and Fin Powell. Ziggy Dale, Freya Heath, Amber Butler Adams, Harry Frost and Issy Frisby were also shortlisted. All 8 shortlisted poems can be read below. 
Behind the Mask  
By Marcus Scales  
They think they know me all so well, 
behind this mask all my thoughts dwell. 
I've no real face, so I wear this mask, 
It hides what I think of those who pass. 
Whether I'm happy or sad, 
Furious or mad. 
My face is hidden and will never be shown, 
My opinions and thoughts will never be known. 
There was a time I told you, 
Of all that ached inside. 
The things I held so sacred, 
To all the world I'd hide. 
Without my mask,  
I weep, I cry. 
I plead and I try, 
It keeps me safe,  
From many out there, 
This ominous mask 
Is what I wear. 
Behind the Mask  
By Fin Powell  
Space and time and all that it contains  
What exactly is this place  
You may wonder what it is and how it even exists. 
It is difficult to tell at first and discover the universe. 
What is behind that mask of clouds and what is out beyond the stars  
It's hard to tell with that comforting layer that we call the atmosphere. 
Wild predictions of how we exist  
Its really hard to get the gist 
How do we know the truth behind a mask 
How do we know about stars and quasars. 
There is only one way we know 
 And that's to look down at our toes. 
If we really want to know the truth  
Then tilt our heads up and look around. 
Shake off your cover of comfort and discover   
Behind the Mask 
By Charlotte Ambrose 
Smiling children play and dance, 
While laughing parents watch them prance, 
Where cheerful workers walk about, 
And Elderly happily don't go out. 
While so much joy is all around, 
It seems at least, they're sweet and sound, 
but no one sees behind the mask, 
behind the mask where all is different. 
Smiling children come home and cry, 
laughing parents shout and scream, 
cheerful workers fail and give up, 
happy elderly mourn for their loved ones. 
So while it seems all is great, 
remember people suffer in other ways, 
because no one sees behind the mask, 
behind the mask where all is different. 
Behind the Mask 
By Issy Frisby 
You wear the mask to hide who you are 
To cover dry lips and wrinkle 
To hide the insecurities deep down far 
You want to look pretty 
You want to look clean 
You want to look like the model 
In those designer jeans. 
The people who see you  
Don't know who you are  
They see the make-up and creams 
You get out of a jar. 
Next time you want to wear make-up 
Or put on your mask 
Whatever it may be  
Make-up, fake emotions 
Or something you can't see. 
If you want to know someone  
Take off the mask 
And show your true face 
And then you should ask  
If they can take their mask off too 
And then show them  
The brand new you 
Behind the Mask  
By Freya Heath 
 How do you say hello? 
 No more are there proper hello's, good day's or how are yous' 
Try to speak and your voice will be muffled, 
Try to smile but they can't see that, 
You just look strange and slightly abnormal, 
Try to wave but that's a bit weird. 
We miss the days where you could smile politely, 
Acknowledge the little old lady nicely; 
See that you've made her smile, 
Brought some happiness, made her day worthwhile, 
Life may be hard, but you've made it better awhile, 
You smile to yourself and hug your sweater. 
Maybe one day, life will be better. 
Hiding behind Masks 
By Harry Frost 
Poker dotted or stripy, 
Blue and red 
Maybe green maybe yellow. 
Branded with sticky label. 
A strap round your head, 
Or just snuck round one ear. 
Tight to your face or small for a child, 
Some sizeable and are twisted to fit. 
Even with an air vent to one side. 
With Personalities and characteristics as living beings. 
Humble or boastful, 
Perhaps they could be Sporty? 
Masks define you; they conceal you. 
Masks hide you. 
Behind the Mask  
By Amber Butler Adams 
Behind the mask could behold anything,  
From a Covid cough to a smiling grin.  
But the mask only covers half your face, 
Smile with your eyes and let us embrace 
That this may go on for years to come.  
The constant 'stay two meters away' is never fun. 
Masks can be thick, thin, blue or flowery 
But the feelings inside can be endless and towering. 
Hiding emotions has never been so easy 
But no one seems to notice the dark demons around me, 
The worries of sickness for me and my family. 
The invisible traces that hide all around us  
The rising number of cases the government will discuss.  
But masks can be good and cover more than your grin 
They cover the cheeky spot emerging on your chin! 
Behind the Mask  
By Ziggy Dale 
Red lips, blue eyes and a button nose 
She walks with grace across the streets 
The way her shiny hair flow 
And everyone says she is sweet 
No one knows she thinks 
No one knows that this is a mask 
No one knows this is a jink 
And no one has bothered to ask 
She smiles and waves 
But the second she gets home  she breaks 
The tiny voice inside her misbehaves 
And her mind aches 
The mask comes off with one wipe 
The hatred and envy have switched on 
Her skin turns unripe 
Whilst the joy and smile have gone 
The hair was withdrawn 
The joyful eyes were a mask 
She kept on wiping until it was gone 
Covering her persona was a daily task 
Sat there staring at the mirror 
Tears rolling down her cheek 
Feeling that the time to leave the world was getting near 
Without a mask she was an unknown freak 
Nothing left apart from a tiny mind 
And a frail and skinny creature  
Everyone was blind 
The people who loved her could not reach her 
She cried until she started to fade 
And she did not even feel afraid 
Don't wear a mask 
Otherwise you will see you loosing yourself like a daily task