National Schools Regatta memories
St. Edward's have been competing at the National Schools Regatta since it began in 1947. Desmond Hill OBE, who was a teacher at Teddies, founded the event to ensure the juniors got as much racing experience as possible, and it has grown from an afternoon of rowing, to a nowadays three day extravaganza. 
The main picture above shows Radley College racing St. Edward's in the Final. Radley College won by 1 1/2 lengths in 3min 35sec. The location is poignant too. The land beyond is Port Meadow, and the river of course, is the Thames. The stretch is that of the current St Edward's School Boat Club.
The Regatta was due to commence today, and we would have been sending ten crews out onto the river, under the guidance of Head of Rowing Adam Moffatt. We will miss the festival atmosphere, the many lively and gregarious spectators made up of coaches, family, friends, competitors, rowing aficionados and universities that crowd the banks cheering on the junior rowers and supporting the whole spectacle. 
St Edward's have had some successes over the many years, remembered by many, especially former Master in Charge of rowing, John Wiggins. Gold medals were won for the Boys Championship Coxless Fours both in 2000 (with Toby Smith captain of boats – you can read his obituary in Rhubarb here) and 2003.
In 1999 a win in the Boys Pairs set Toby on the road to GB selection and a world Gold medal while others from the 1999 VIII took Bronze in the Coxed Four before collectively going on to take our most recent win at Henley.
In 2006 a boys Junior 15 Four took Gold. It included Rio Olympian Stewart Innes. 2003 was a strong year all round with Gold medals for the Girls Four, Boys Junior 16 Four, and Championship Four. In that year the First VIII took Bronze and went on to reach the final at Henley.
The Girls' Senior Fours were strong in this decade with Gold in 2003, Bronze in 2009 and Silver in 2010.
2010 saw five medals in total, though none gold; amongst these was the Bronze for the Junior 15 Boys VIII, many of whom went on to row in the silver medal winning 1st VIII of 2013. A personal favourite memory for long-term coach John Wiggins was another J15 boys bronze eights medal in 2012.
2013 saw Teddies best 1st VIII result since 1997, (the last win for the VIII at the NSR was in 1993). This crew was another to reach a Henley final, as did the 2014 VIII despite missing a medal at NSR.
Despite the strength of a number of crews, medals were few in the following five years with some genuine hard-luck stories but the 2018 Regatta saw a return to Gold with a most dramatic win for our Girls Junior 15 Four in a re-rowed final (pictured below), added to with a Junior 16 Boys Pair Silver.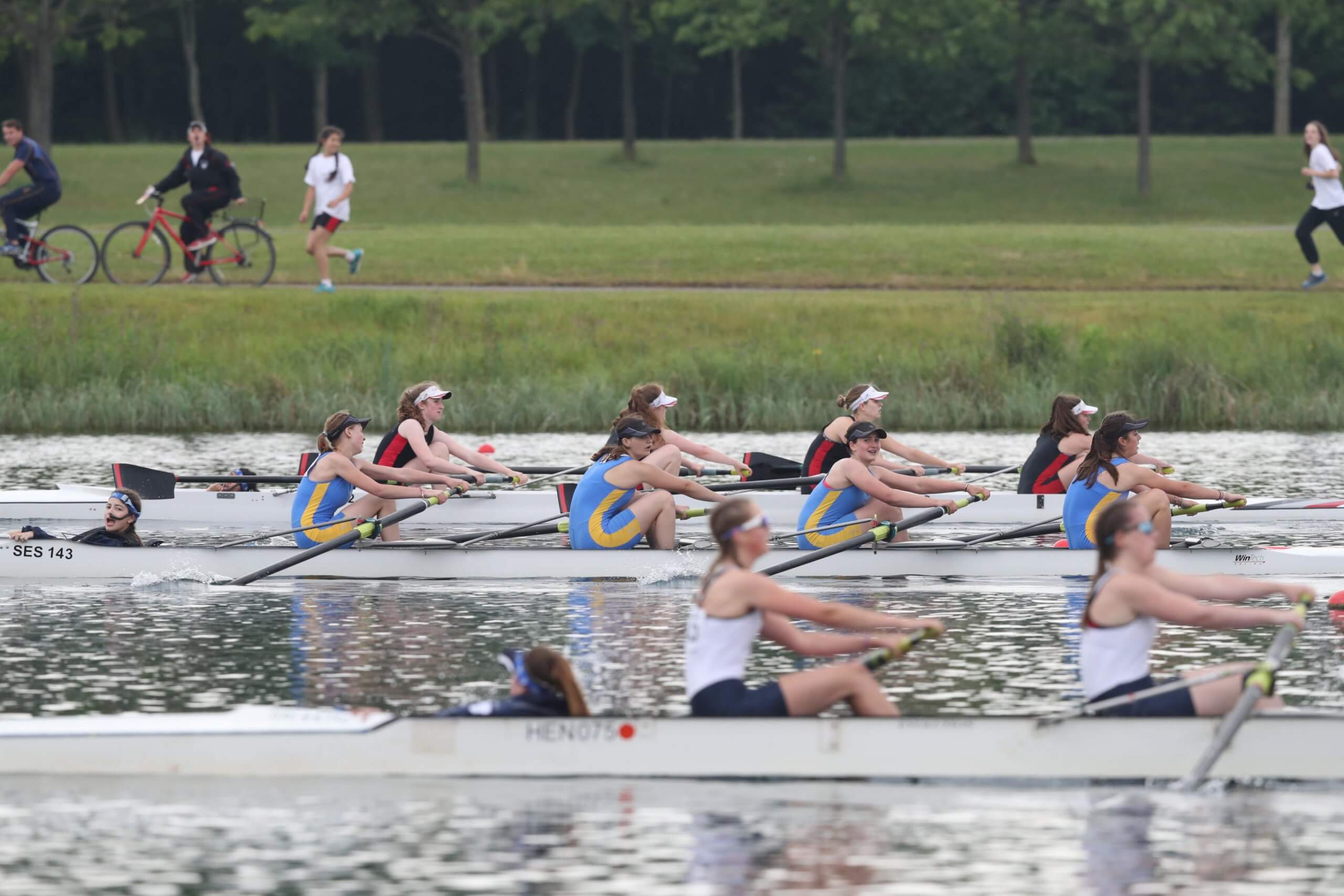 Abi Drennan (cox), India Courage, Daisy Speir, Saskia Ward and Jess McPhail
The Girls went on to win Silver as Junior 16s in 2019 while their successors picked up a Bronze.