Cameron King selected for England
St Edward's Upper Sixth pupil, Cameron King, has been selected by England Counties U18 to play in two tests versus Ireland in April. During a South West Divisional weekend at Stourbridge on 23rd-25th February, Cameron started in two matches, scoring a try in the first against the Midlands, and setting up two tries in the second against the North. Clearly Cameron's impressive performance was noted by the England selectors who called him up for the tests next month. Many congratulations to Cameron on his exceptional achievement.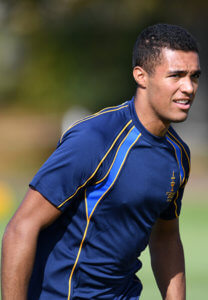 It is a continuation of an impressive year for Cameron, following on from an excellent season playing for the School's 1st XV in which he received his Rugby Club colours, turning in stand out performances in the wins over Monmouth and Radley in particular, scoring two tries in the latter. He has played for the 1st XV for two years, making his debut for the side in September 2016 and plays as a back row forward, at Number 8. The time and energy Cameron has put into progressing his skills, physicality and understanding of the game have significantly aided his development.
Described by coaching staff at St Edward's as an "impressive athlete with a sharp turn of pace who is a strong and willing ball carrier, equally comfortable making the 'hard yards' or running in broken play, with a high quality handling game that enables him to offload out of the tackle regularly. He has developed into a brave player whose strong tackling and 'smart' defending made him an important part of a formidable 1st XV defence." "His excellent footwork in contact and ability to manipulate defenders means he is consistently able to beat the first defender and exploit gaps."
After the news of his selection was announced, Cameron sat down with Master in Charge of Rugby, Rob Cottrell, to chat through a few of the key moments in his playing career to date, you can read his answers below. If you would like to read the news from England Rugby of the squad announcement, you are able to do so here.
Favourite moment
Our unbeaten home record on Upper 1 this season; beating the likes of Rugby and Clifton, as well as the home win over Radley in front of a massive crowd of spectators were all pretty special.
Reflections on England Counties selection
Relief! I put in a lot of time and effort in getting to this point and, after all that, I am pleased that I didn't disappoint myself or the many others who have helped me along the way.
Future ambitions
Attending university, as well as continuing to progress with my rugby development and seeing whether I can achieve playing at an even higher level to this.
Earliest rugby memory
My earliest and probably most memorable experience was back in 2010 when I was playing for my local club in a tour match. During the fixture I'd made a line break and was clean through, with only the try line in front of me, when out of nowhere I was tap tackled by a girl who hadn't played a great deal at the time, managing to knock the ball on in the process. It wasn't a moment I've been allowed to quickly forget!