Pupil-built drone takes flight
Alessandro Corrias, a Fourth Form pupil at St Edward's, took on the challenging task of building a drone from scratch in just a few months. Discussing his remarkable achievement, Alessandro explains the highs and lows of its construction and his early test flights: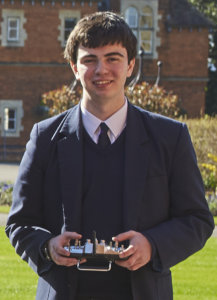 "I noticed that the drone industry was going in one specific direction, so I decided to see what would happen if I went the other way. I decided to build a drone that exposed all of the complicated components, and that would invite the user to take a deeper interest in drones in general. The drone was designed from the beginning to be as open to modification as possible, with all the connection points exposed and plenty of space to add any component one could imagine.
The construction took me around three months, with the brain-numbing mathematics on the choice of motors, propellers, battery, etc, taking around three months prior to that as well. I could regale you with 'exciting, happy stories' about the whole thing fitting together perfectly, but that would be lying, because building this thing was the most stressful thing I have ever done.
Right from the start it all went wrong, with the instruction booklet for the frame being in illegibly translated Chinese. Even after finally rewiring 12 different components (that's 52 wires if you count the ones that went wrong), it still took hours of finger-gymnastics to plug every connector into position. It all went wrong during the maiden flight too, with three propellers falling off and a leg snapping in half, but only a day and three tubes of superglue later, it was ready to fly again.
Unfortunately that didn't go well either and ended up with the drone falling in a puddle and the leg falling off again. Only now, after three sessions of super-gluing, am I confident when flying it. Was it worth it? Yes: I can attach anything I want to it, from a large camera to a music speaker. I can modify it in any way I want: I could make it entirely controllable from my laptop, or make it follow any moving object that I want it to.
I accomplished what I wanted to do. All that remains is to see what else I can do to it."