T
he Inspiring People lecture series is a joint venture between The North Wall Arts Centre on South Parade in North Oxford and its principal sponsor, St Edward's School. The title reflects the nature of our eminent speakers and also the driving force of the two organisations, each of which has a mission to educate and to inspire – within School and in the wider community.
Please note, bookings are now open on all talks in the current series. Click here for bookings.
The series began in October with a talk given by former Director of the National Theatre, Nicholas Hytner – more details are below. The next talk in the series will be given by Henry Marsh. 
Henry Marsh – What are your thoughts made of?
Tuesday 23rd January, 7.30pm, The North Wall Arts Centre – Please note, tickets are now on sale through the Box Office or on 01865 319450
The eminent neurosurgeon and author Henry Marsh CBE FRCS will be launching the new year's schedule of Inspiring People lectures at The North Wall. His fascinating career in pioneering neurosurgery and his experiences in the operating theatre have been candidly captured in two acclaimed memoirs Do No Harm: Stories of Life, Death, and Brain Surgery, and his follow up released in 2017 Admissions: a life in brain surgery. 
His career has taken him to surgeries in the Ukraine, Nepal, Albania, and Pakistan, with the former currying particular note, being as he was the subject of a BBC documentary film The English Surgeon (2009). Marsh also has strong views on successive governments' handling of the NHS.
Educated locally at The Dragon School, Oxford, Marsh went on to Westminster School, University College, Oxford reading PPE and gaining a First, before graduating with Honours in Medicine from the Royal Free Medical School. This lecture is one not to be missed.
The opening talk was given by Nicholas Hytner, introduced by George Fenton.
On Tuesday 31st October, in the first of the new series of talks at The North Wall, George Fenton introduced Nicholas Hytner, Director of the National Theatre from 2003 to 2015. Nicholas spoke about his recent book, which candidly illustrates the competing forces at play in a major arts venue.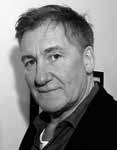 Balancing Acts: Behind the Scenes at The National Theatre was published by Jonathan Cape in May 2017. 
George Fenton, a former pupil and now Governor of St Edward's School, is a multi-award-winning composer best known for film and television scores such as Gandhi, The Blue Planet and Cry Freedom. George and Nicholas have worked together many times, including on such projects as The Madness of King George, Collaborators and The Lady in the Van.
Inspiring People from January 2018:
Tuesday 23rd January – Henry Marsh, Neurosurgeon and author.
Tuesday 20th February – Andrew Graham-Dixon, Art-historian, critic, broadcaster and author.
Monday 12th March – Marty Jopson, Inventor, BBC One Show reporter and author.
Monday 16th April – Bettany Hughes, Historian, author and broadcaster.
Wednesday 9th May – Jonathon Porritt, Environmentalist and author.
Bookings are now open for all talks in the series. Click here for bookings.