For St Edward's pupils, Oxford is far more than just the School's geographical location.
T
he dreaming spires, and the enviable array of academic ingenuity and endeavour which they house, are not just inspirational, but offer tangible benefits for greater depths of learning as well.
The universities' faculties and their academics, many of whom are world-leaders in their fields, are accessible to pupils, who benefit from the regular lectures and talks that the school is able to arrange through our close relationships with the city's institutions.
Talks, seminars and visits with the universities
Every term pupils benefit from a wide range of lectures, talks and seminars with leading academics from Oxford and Oxford Brookes universities, and have the opportunity to attend events at the universities. The proximity of the institutions provides the pupils with an enviable degree of access.
Oxford on the doorstep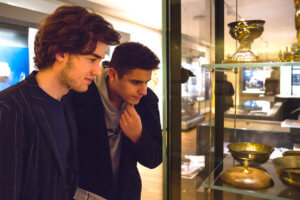 The cultural opportunities provided by Oxford for pupils are also many and varied. Trips to the Ashmolean, Natural Sciences and Pitt Rivers museums provide readily, giving the opportunity to advance studies and understanding directly. Whilst exhibitions and workshops at galleries such as Modern Art Oxford, the Old Fire Station and, of course, our own North Wall Arts Centre give pupils an opportunity to further develop their skill sets and expand their horizons beyond our own facilities.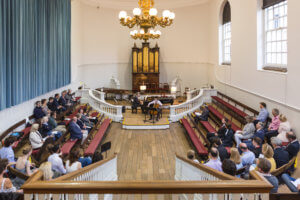 Music has a major impact on school life at St Edward's with some 500 individual instrumental music lessons each week, and it has a big part to play in the life of the city as well. Walking along Oxford's roads and walkways, melodic notes can often be heard floating on a harmonic breeze. More specifically, senior musical scholars attend the Oxford Lieder Festival during the Autumn Term, this year in St John the Evangelist Church (the SJE). Other concert trips will include other iconic venues, such as the imposing Sheldonian Theatre and the acclaimed Holywell Music Room.
Oxford University also provides extensively for the development of inquisitive thinking and debate among younger people preparing for their future studies. The university's Oxplore initiative is an interactive digital outreach portal aimed at 11 to 18-year-olds, tackling complex ideas, challenging concepts and drawing on the very latest research taking place at the university.