For St Edward's pupils, Oxford is far more than just the School's geographical location.
T
he dreaming spires, and the enviable array of academic ingenuity and endeavour which they house, are not just inspirational, but offer tangible benefits for greater depths of learning as well.
The universities' faculties and their academics, many of whom are world-leaders in their fields, are accessible to pupils, who benefit from the regular lectures and talks that the school is able to arrange through our close relationships with the city's institutions.
Talks, seminars and visits with the universities
Talks this autumn have included Dr Stephen Tuffnell, Fellow and Associate Professor of Modern US History at St Peter's College, who spoke on "Gold Rushes" during an Academic Forum event for Fifth and Sixth Form pupils.
Whilst Professor Danny Dorling, also from St Peter's College and the Halford Mackinder Professor of Geography, spoke to geographers in The North Wall about his key area of research on worldwide housing, health, employment, education, wealth and poverty, with a talk entitled "The Geography of Inequalities" in September. 
Elsewhere, pupils studying Latin and Greek for the IB Diploma have the great opportunity of visiting the renowned Ashmolean Museum, the world's largest university collection, just a mile down the road, to kick-start their thinking for their Internal Assessments.
Other recent talks have included Professor Richard Huggins who is Principal Lecturer in the Department of Social Sciences at Oxford Brookes University. Professor Huggins spoke about the history of criminal profiling & the roles played by the Police, sociologists & psychologists in helping to ' build a picture' about who might break the law in particular circumstances.
Dr Jamie Lorimer, Associate Professor in Human Geography and Fellow of Hertford College, Oxford, gave a lecture to pupils on 'Rewilding and future conservation in the Anthropocene.' Dr Lorimer discussed this new approach to conservation, the benefits and problems of introducing missing species and processes into a dysfunctional ecological system. 
The society and activity benefits from Oxford
Pupils are able, and indeed encouraged to set up societies at St Edward's and they often make use of the proximity of the universities to approach guest speakers for their events. One recent example saw Professor Sarah Blagden from the Department of Oncology who spoke to the Medical Society about her work both as a clinician and running her own laboratory. 
Oxford is well-known for the splendour of its university and the Architectural Society will be taking full advantage of it once again this term, with a visit to Arne Jacobsen's St Catherine's College. Arch Soc also recently took in two other modernist masterpieces in Zaha Hadid's work at St Antony's College and the Blavatnik School of Government.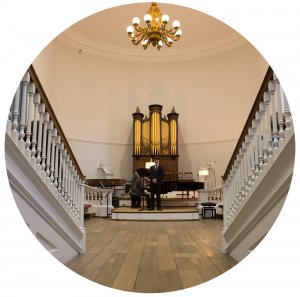 Music has a major impact on school life at St Edward's with some 500 individual instrumental music lessons each week, and it has a big part to play in the life of the city as well. Walking along Oxford's roads and walkways, melodic notes can often be heard floating on a harmonic breeze. More specifically, senior musical scholars attend the Oxford Lieder Festival during the Autumn Term, this year in the imposing Sheldonian Theatre and the acclaimed Holywell Music Room.
Modern Foreign Language pupils have much to talk about too. The Maison Française d'Oxford on Norham Road offer lectures, seminars, talks and French cinema, with teachers encouraging pupils to attend appropriate events to them, such as The Thoughts of [Charles] Baudelaire.
Oxford University also provides extensively for the development of inquisitive thinking and debate among younger people preparing for their future studies. The university's Oxplore initiative is an interactive digital outreach portal aimed at 11 to 18-year-olds, tackling complex ideas, challenging concepts and drawing on the very latest research taking place at the university.