The St Edward's Society supports pupils from the moment they leave school and throughout the rest of their lives, joining the community of thousands of OSE who all have one thing in common – Teddies.
T
he Society, through the OSE Office, organises a huge range of events and publications so that all OSE can maintain their links with the School and keep in touch with one another. You can view the latest publications, full of OSE news, here. There is an active OSE community on social media. You can join in by liking and sharing our page on Facebook: St Edward's Society, joining the 1,150 OSE on the St Edward's Oxford: OSE LinkedIn page here, or following the latest Teddies news on Twitter @TeddiesOxford, @TeddiesRhubarb and @TeddiesMartyrs. The OSE office is located in the Lodge in the Quad. Please contact us on ose@stedwardsoxford.org or 01865 319438 if you would like to visit the School.
Events for OSE are held throughout the year and across the world, with the annual meal taking place at the end of the School's Spring Term. The film below was made to celebrate the 20th anniversary of the school moving to full co-education which passed in 2017.
All past pupils of the School are entitled to become members of the Society, after payment of the life subscription (which is normally a part of the termly fees). The Rules of the Society can be seen here. Members of the Society also include the Warden, and current and past members of the Common Room.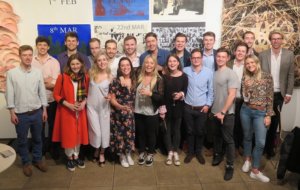 In addition to its support of the School, the Society provides a platform for OSE to share their experiences with each other and current pupils, advising on careers, further study and travelling. Many return to share accounts of their career paths with the Fifth Form, and university studies with the Lower Sixth. Industry focused events enable OSE to share their wisdom and gain insights into new careers and sectors. OSE continue to enjoy meeting up in their regions and in various corners of the globe, and the Martyrs fly the flag for alumni sports led by Simon Talbot-Williams, President, and Peter Swainson, Vice-President.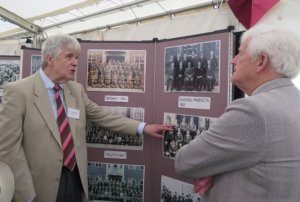 The School community benefits enormously from the recent work of our archivist and OSE Chris Nathan. Malcom Oxley's splendid A New History of St Edward's School, Oxford: 1863-2013 was certainly expedited by the newfound order in the Archives, and now we have a signature book from Chris Nathan on the contribution made by OSE in the Great War, Members of a Very Noble Friendship. Both the impact that OSE made in the Great War and this account of it are remarkable achievements. The School currently educates approximately 700 pupils, roughly the same number of OSE that fought in over 30 locations during the First World War.
As we look ahead to plans for a new hall, library and academic centre, and the continued success of pupils and OSE alike, I look forward to sharing the exciting times that lie ahead for the School and its community and hope to see many of you at an OSE event very soon."