Merchandise
Rhubarb and Society merchandise is available to purchase.
V
arious items are available to purchase from the OSE Team. Please email ose@stedwardsoxford.org to find out more. Further items such as cufflinks, bracelets and books are available through the school shop. Please click here to visit. 
Special Edition Prints of St Edward's School Quad by Cecily Vessey (OSE) for Sale
A signed, special edition print created by OSE Cecily Vessey to coincide with Co-Education at Twenty: An Anniversary Exhibition, celebrating 20 years of full co-education at St Edward's. Copies of this limited edition print are available at £65 from Cecily's website, here, with 20% of the price being donated to the School Bursary Fund.
Limited Edition Cricket Prints for Sale
The School commissioned Isle of Wight based cricket artist, Jocelyn Galsworthy to paint a picture of the 1st XI in action against Marlborough.  Painted in oil on canvas, Cricket at St Edward's shows St Edward's fielding on Upper 1, with the Lodge and Chapel in the background.  We are delighted to give you the opportunity to own one of only 350 limited edition unframed prints, signed by the artist.  Jocelyn Galsworthy has been painting professionally for over fifty years and is particularly well known for her portraiture and her highly acclaimed paintings of English and International cricket scenes. Copies are £125 each unframed plus £8.70 p&p, or £185 framed (pick up only).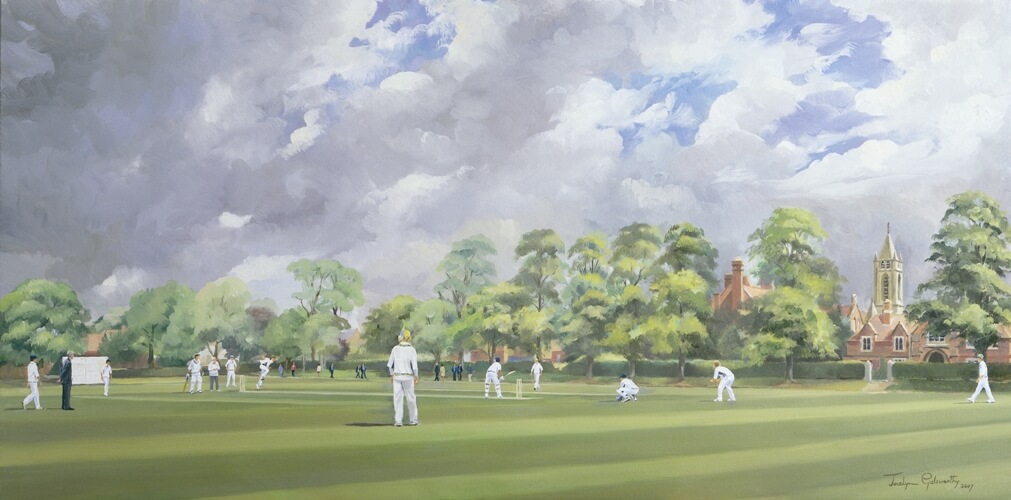 To order a copy please follow the link to our school shop or email Emma Grounds: groundse@stedwardsoxford.org