Arrangements for Autumn 2020
We understand how unsettling these extraordinary times are. New guidance emerges almost daily and it is difficult to keep up with the changing picture. We are eagerly awaiting the return of our pupils in September 2020, and are busy putting in place all the measures we can to keep them safe, and adhere to government guidelines. 
These information booklets gives as much information as we currently have available about what school life will look like in September. We remain optimistic that we will be able to run St. Edward's on a near normal basis from the start of the Autumn Term, though of course we continue to plan for a number of scenarios.
Please read through the relevant guides below, and contact the school here if you have any questions.
Click on each guide to read or download.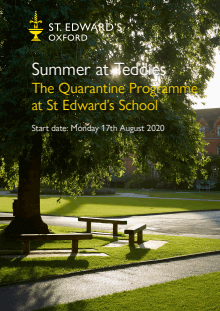 The Autumn Term for overseas families